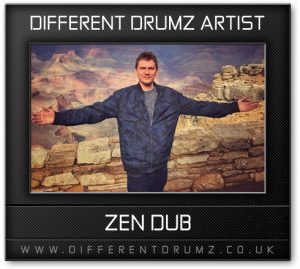 Kai Norton (Zen Dub) Producer / DJ based near Glastonbury in South West England. Producing for over 5 years experimenting with various styles including Drum & Bass / Dubstep & Ambient he has created his own signature Zen style of music.
To date Zen Dub has had many releases on a wide selection of drum and bass labels including Soul Deep Recordings, DNBB Recordings, C Recordings, Kill:Inc Drum & Bass, Figment Records, Liquid Boppers Records, Rotation Records, his own new label Sentience Records and has now also joined the family here at Different Drumz Recordings with his first release 'Zen Dub & Karas – The Dojo EP' landing soon.
Zen Dub has been a good friend of the family here at Different Drumz since we first started working with him a while ago and he got involved with our podcast series and its great to now have him involved with the label as part of the Different Drumz Family too. If you have not already make sure to check out 'Zen Dub – Different Drumz Podcast Episode 10' with a exclusive mix and interview from the man himself.