Zen Dub – Different Drumz Podcast Episode 10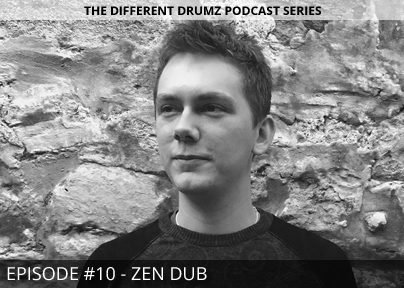 Episode 10 of The Different Drumz Podcast Series features Zen Dub (Sentience Records / Soul Deep / Liquid Boppers) with exclusive interview and 1hr mix of fresh and forthcoming deep drum and bass
The Tracklist
01. Soul:Motion – Sentiment (Malaky Remix)
02. Alix Perez – Recall & Reflect
03. Zen Dub & The High Breed – Creme De La Creme
04. Eastcolors – Caught Up
05. Jazzatron – Flatmate
06. Soligen & Type 2 – Can't go (Break Remix)
07. Karma – Saturation Point
08. Zen Dub – Fading Memories (Impish Remix)
09. Riya ft. Enei – Is It You
10. Radicall – Start Again
11. Phaction feat. Katkin Willow – Lucid
12. Move Mode – Oak
13. London Electricity – Drop Ship
14. iBSTRACT – Sublime
15. Dub FX – Don't Give Up (Champion Remix)
16. Voltage – Suspicious
17. Eastcolors – Coat Of Dust
18. Gerra & Stone – Too Deep (VIP)
19. Zen Dub – Panacea
20. Abstract Elements – Uranus
21. Impish – Digital Bath
22. Muffler – Mountain Streams
23. Shadre – The Moment
24. Villem – Make Tomorrow
25. Section – Perfect Space (Kumarachi Remix)
26. Wyman – Kayden (Malaky Remix)
27. Dub Motion – Mercury
28. Quadrant, Kid Hops & Iris ft. Klute – The Only Way Out Is Through
29. Artificial Intelligence ft. Dawn Wall – Scrolls
30. Salaryman – Give To Me
31. Howl & JML – Amour
32. Arp XP – On Your Skin
33. Zen Dub – Believe (Sektor Remix)
The Interview
Hi Zen Dub, great to have you involved with Different Drumz, thanks for your time. Please could you kick things off by telling us a little more about yourself for those that may not have heard about you or your tracks?
Thanks its great to be a part of your podcast series! I first started producing nearly 10 years ago when I got hold of a copy of fruity loops and just started experimenting making all kinds of music. This was around the same time I first discovered Drum & Bass and I was completely hooked by the sound of producers like Zinc, Marcus Intalex & Pendulum to name a few and wanted to have a go at making Drum & Bass myself. Then I did a music technology course at collage and got myself a Macbook and Logic and started getting into production more seriously. It took a couple more years for me to develop my sound until I started sending tracks out, but it didn't take long until I had tracks signed to a few labels and over the past few years I have been developing my sound to what it is today which I would describe as Deep Drum & Bass.
Please could you tell us about a few of your favourite dnb artists that you follow and do you have any artists that you would like to collaberate with that you have not already?
There are so many great Drum & Bass producers out there at the moment its hard to pick a few but I have to say some of my favourites would be Break, Calx & Teebee, Malaky, Logistics, Nelver, Ivy Lab, Dawn Wall, Tokyo Prose and many more but literally I could go on all day! My last EP on Soul Deep had the remix treatment from Impish, Sektor, Tremah, Humanature, Colossus & Altered Perception who are also among my favourite producers so it was great to get them onboard! As for collaborations there is some stuff in the pipeline at the moment but can't give any details just yet.
As we know you are a fan of the more soulful side of dnb when it comes to your productions, do you play any instruments yourself & where do you find your inspiration for your tracks?
Yes I love all styles of Drum & Bass and I think there is a sub genre for every time and mood but I think my favourite has to be the deep soulful liquid sound and also enjoy other styles of deep melodic music. As for an instrument I used to play drums for a few years so maybe that's where I get my rhythmical inspiration from. I also play a little bit of guitar and keyboard but I'm not a pro but I do know a few great musicians I can call upon like my friend Daygan who is brilliant mandolin player. I have done a couple of tracks with him that are forthcoming on my Distant Lands LP which will be out within the next couple of months.
What does your current studio setup consist of and what made you choose your current DAW?
My setup is fairly basic really I have a Focusrite Saffire Pro 40 Soundcard & a Korg Midi Keyboard hooked up to a MacPro with a pair of Yamaha MSP10 Monitors. I also have a lot of Digital Synths like Omnisphere 2, Trillian, Serum, Massive and Kontakt 5 filled with lots of great sample libraries. I use logic 9 as my DAW as I just like the way everything is laid out and works.
Do you have any production tips for all the budding dnb producers out there?
All I can say is keep experimenting and trying new things out and never try to pigeon hole your sound or try to sound like other producers, its okay to take inspiration from others but try to be unique and craft your own sound. Also find yourself good samples to start with as they are the building blocks for your track and are key to getting a great sounding track.
You have had various releases on a range of drum and bass labels such as Soul Deep, DNBB & Liquid Boppers.. Do you have a favourite release of yours to date and could you tell us why it stands out to you more than some of your other releases?
Yes my favourite EP so far would be my 'End Of The Line EP' for Soul Deep as I think it is a nice varied 6 track EP which shows my various styles of Drum & Bass which was also remixed as I mentioned earlier on. I have stuff forthcoming on Soul Deep including a 4 track EP and a remix for OctoPi. Also I have just set up my own label called Sentience Records which will be focusing on the deeper spectrum of Drum & Bass and will kick off with a 10 track LP from me entitled Distant Lands featuring my well received track Panacea which has had support from some big names!
Do you have a favourite event that you have played at in the past and do you have any future events lined up for everyone out there that would like to hear you play out live?
I have played some larger sets mainly in the midlands and have played alongside some big names like Danny Byrd, Mutated Forms & Voltage to name a few. I have had a few months break from live sets and have just been focusing on my production but will be back on it next year for sure and will update my Facebook page with more info about dates etc.
Please could you tell us how you have put the DDz podcast mix together and what our listeners can expect to hear in the mix?
Yes I have selected a nice varied mix of tracks I have been feeling a lot over the last couple of months including Liquid, Neurofunk & Ragga Drum & Bass, enjoy.
Before we wrap it up, do you have any shouts you would like to give?
I would like to shout out to all my friends and family & to everyone who has supported my music along the way! Big up to you guys i wouldn't be where i am today without all your ongoing support!
Finally, what are your top 10 tracks 'in your box' at the moment?
I think this selection of tracks I have put together for this mix are some of my favourites right now but I will give you my all time DnB top 10:
Bungle – Astral Travel
Rene Lavice – Spile
Rockwell – Underpass
Facing Jinx – Hungry (Philth Remix)
Flame & Physical Illusion – Bygones
NCT – Butterfly Effect
Sapphire – Stop The Time, I'll Come Off
Sizzla – I'm Living (Ed Solo & Stickybuds Remix)
Statistic – Shattered
Logistics – Triangles
Useful Links
Zen Dub Website | Zen Dub Soundcloud  | Zen Dub Twitter | Zen Dub Facebook