The French Connection Mix Series | Parts 1-6 (Stream & Download)
We are very proud to introduce a fresh new mix series 'The French Connection' exclusive only to Different Drumz Radio! This mix series includes a range of fresh and varied mixes from a hand picked selection of our favourite French DJ's & Producers that will include a range of styles from Atmospheric Jungle / Breaks to soulful Liquid dnb, deep beats and absolute bangers!!
All of these exclusive mixes will be available for free download and to stream via this page with full track lists & artist details after they been broadcast live right here on Different Drumz.
---
Deskai – The French Connection | Part 1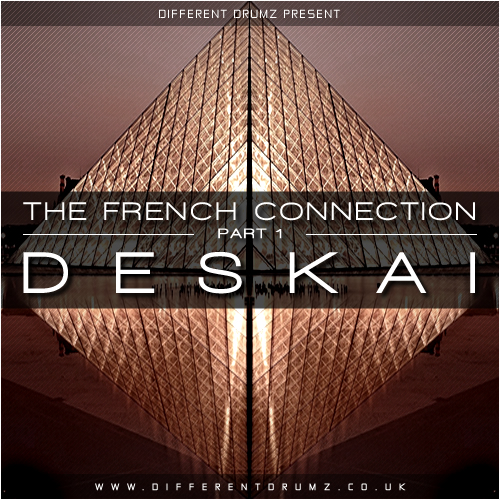 We start the ride with a Atmospheric Jungle / Breaks mix that is between 130 and 150 bpm from Deskai [Renegade Hardware // Scientific Records // Modulate Recordings // Soul Deep Recordings // Offworld Recordings // Monochrome Recordings]
This set wase first  broadcast live on Different Drumz Radio on Saturday 26th Jan 2019 between 7-8PM (GMT)!
A little more about Deskai…
Oliver Reissig also known as Deskai, Synox, Dubaxis and Spasmik is a versatile producer, DJ, drummer and mastering engineer originally from Paris, France and based since 2012 in Berlin, Germany.
His great fondness for the music and club scene of the 1990's has inspired him to produce and mix tracks influenced by this legendary period in music history. To bring the masses a fresh sound created with an old school style, yet with new production techniques, has driven Deskai to continue on his path as both creator and lover of music.
With strong worldwide dj support of his music from LTJ Bukem (Good Looking records), DJ Ink (Renegade Hardware), Renaat Vandepapeliere (R&S records), Blu Mar Ten, John B, Seba, Electro Soul System, Stunna, Mav, Future Engineers, LM1, Eschaton and more, Deskai has released and signed numerous drum & bass tracks to labels such as Renegade Hardware, Scientific Records, Offworld Recordings, Modulate Recordings, Omni Music, Monochrome Recordings and Soul Deep Recordings over the past few years.
The Track List
01) Longers and forces of nature – Natures way
02) Supreems – Close your eyes
03) Lone – Pulsar
04) Seba – Silicone
05) Marco Lazovic – Untitled 6
06) JVXTA – Angelo's alley
07) Marco Lazovic – Untitled 5
08) The Sentinel – Toulepleu
09) Skanna – This way
10) PFM – Western
11) Seba & Lo-Tek – Universal music
12) TMF – 5 miles high
The Mix
The Download
Useful Links
Deskai Soundcloud | Deskai Facebook | Deskai Twitter
---
Midn8Runner – The French Connection | Part 2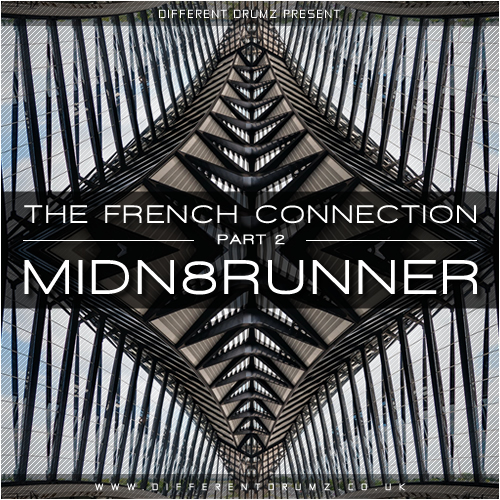 Next up we have a fresh new drum and bass mix from another top French artist that is smashing it at the moment; Midn8Runner  [Liquid Tones // Soul Deep Recordings // Rust Out Records // DNB France // Chillax Trax // DNBB Recordings //  Hyper Activity Music]
This part of the mix series was broadcast live on Different Drumz between 8PM and 9PM (GMT) on Saturday 26th Jan
The Track List
1) Soular Order & Solace – Sundown
2) Blure – Aurora
3) Visages – Mellow Honey
4) Surreal, HumaNature & Radicall – Soul Train
5) Fearful & Keosz – Stand Alone
6) Humanature, Ash:Ram – Nautilus
7) Dave Owen and T.R.A.C. – Love Is All We Need feat Charli Brix
8) Sustance – Unaware
9) Radicall – Build Me Up (Bungle Remix)
10) Midn8Runner – Dimness
11) Subwave – Mirror
12) Bungle – Eclipse
13) Impulsv – Ramraid
14) Exept & Joanna Syze – Stronger
15) Kid Drama – Red Magic
16) Visages – Jah Religion
The Mix
The Download
Useful Links
Midn8Runner Soundcloud | Midn8Runner Facebook  | Midn8Runner Twitter
---
Peyo – The French Connection | Part 3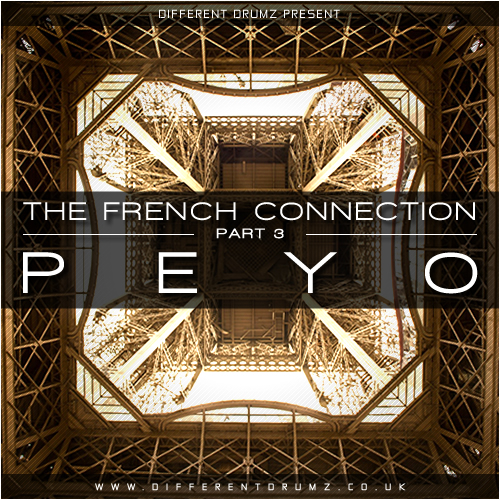 The third injection of fresh beats for The French Connection mix series is from Peyo [Good Looking // Bingo // Liquid Drops // Influenza Media // Santorin]
This part of the mix series was broadcast live on Different Drumz on Saturday 9th Feb
A little more about Peyo…
PEYO has been working hard in the studio since 1996, releasing tracks on labels such as GOOD LOOKING, BINGO, INFLUENZA MEDIA, SANTORIN, BLU SAPHIR, DNBB, LIQUID DROPS, VANDAL RECORDS.
Over the course of his career, he's also performed live and produced tracks with renowned artists including ANDY C, NOISIA, DILLINJA, HYPE, FRESH, ED RUSH & OPTICAL, SUBFOCUS, RONI SIZE, TO- TAL SCIENCE, BREAK, MOBY, AMON TOBIN, MS DY- NAMITE, MC STAMINA, BIG RED and DVWLX.
For ten years he ran his own radio show on the French airwaves while making guest appearances on the BBC Radio 1 shows BAILEY's 'INTABEATS', FLIGHT's 'NEXT CHAPTER', and Fabio and Grooverider's show.
PEYO doesn't limit himself to mixing drum and bass. He also expresses his creativity by producing Half Beat, House, Garage and more.
Though his musical universe is deeply rooted in Hip Hop, Soul and Deep Funk, he keeps an open mind when exploring new and original sounds and is constantly looking to expand upon his vast repertoire.
PEYO's currently working full-time on his new productions, aiming to design a new and re- vamped sound that will surprise and inspire his peers.
The Track List
01) QZB – Capsized
02) Spectrasoul – Organiser (Circuits Rewire)
03) DLR – Dafunk
04) Monty – Nothing Wrong
05) Calibre – Leave
06) Peyo – Elevate
07) Henry – Colours Changing
08) Jay Dubz – In Memory
09) Alibi feat. Cleveland Watkiss – Grace
10) GLXY – Discourse
11) Unglued – Tekapo
12) Document One – Reaching Out
13) Kasra – From The Outside In
14) Arcatype – Autumn Waves (Original Mix)
15) Skeptical – Sinkhole (Skeptical Remix)
16) ??? – ??? (DUB)
17) Peyo – High Flight
18) Break – Sunset Dub
19) SHY FX feat. Stamina MC & Lily Allen – Roll The Dice
20) Peyo – Routine
The Mix
The Download
Useful Links
Peyo Website |  Peyo Twitter | Peyo Facebook
---
Sub Provider – The French Connection | Part 4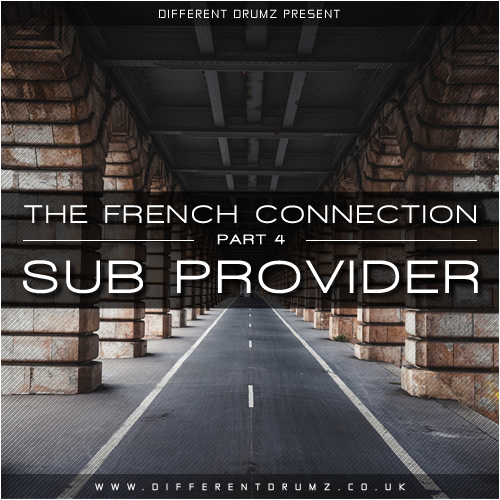 We roll into part 4 of the French Connection mix series with another sublime dnb mix from Different Drumz resident artist Sub Provider. This is a quality little mix featuring tracks from some top artists in the scene including Blu Mar Ten, Naibu, Halogenix, Mako, DLR and more…
This part of the mix series was broadcast live on Different Drumz on Saturday 9th Feb
The Track List
01)RQ – Interplay
02)Quentin hiatus – Saian spirit
03)Naibu – Oblivion
04)One mind – Step across
05)Bungle – Fast forward
06)Naibu – The way you turn
07)The upbeats & Halogenix – Krona
08) Blu Mar Ten – Titans (Law & Wheelers rmx)
09)June Miller – Keep ups
10)Gremlinz – Frankie gunns (Paradox rmx)
11)Photek – The third sequence
12)Mako – My gift to you
13)Thing – Feel so lost
14)Sequences – Ethos
15)War & M-zine – Asemic
16)Filip Motovunski – The street
17)DLR & Hydro – Trick
18)Phonograph – Vertical
19)Midn8Runner – Alone (V1 MASTER)
20)Deadline – Bitter
21)In:Most – Thekla
22)Naibu – Red hand
The Mix
The Download
Useful Links
Sub Provider Soundcloud | Sub Provider Facebook | Sub Provider Twitter
---
Treex – The French Connection | Part 5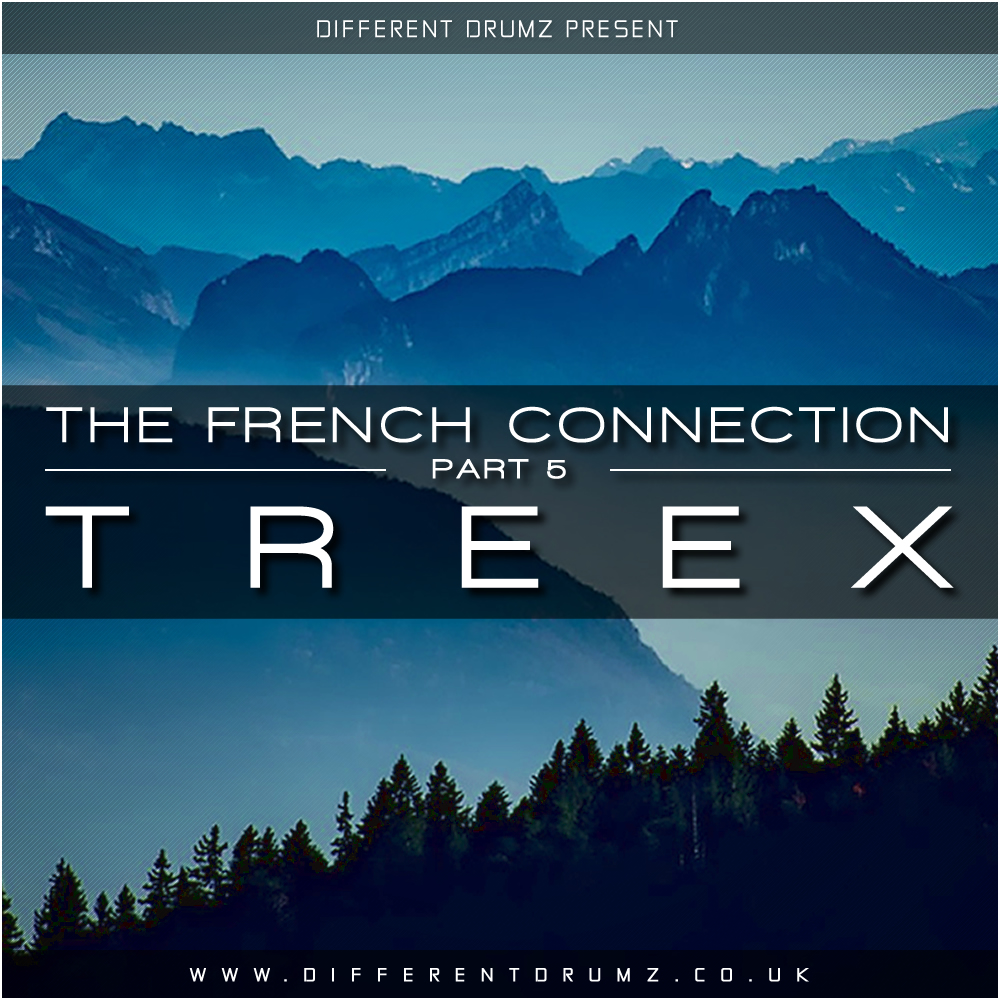 Part five of The French Connection mix series sees the return of  Treex to the Different Drumz airwaves with a varied yet solid mix of soulful liquid and rolling drum and bass beats with tracks both old and new from the likes of Malaky, Redeyes, Silence Groove, LSB and more including some fresh new tracks from the main man himself!
A Little More About Treex…
Born in 1984 and based in Paris, Brice aka Treex is an active member of the french Drum & Bass scene since about 10 years, we have seen him alongside many crews like Amplitude, EN2, Exploration, DNB France and Quality Lab.
Initially influenced by Techno and the cold, industrial atmospheres of Neurofunk, he starts production in 2011 and prefers Liquid Drum'n'Bass to express himself ; thus he can pick his boundless musical culture between Soul, Funk 70's and US Jazz ! He's been signed on Soul Deep recording since 2013 and released his first album 'Gentle Side' in late 2016, playlisted by LTJ Bukem, Patife & John B.
Notice that he also manages the organisation of Liquidz Spirit events and podcasts with his crew, Bass Please, highly active in Paris since 2016. In 2019 he will launch a new EP on Offworld Recordings ! Stay tuned…
The Track List
1) Treex – Keys From The Past (forthcoming Offworld)
2) Malaky – Crossing Paths
3) Redeyes – Midnight Marauders
4) Silence Groove & Skeletone – Brothers
5) Madcap – Gotta Have You
6) Flowrian & Simstah – Midnight
7) Satl – Good To Me
8) LSB ft. Sian Sanderson – Overthinking
9) LSB – I Need Love
10) Walk:r ft. Charli Brix – All I Need
11) Phase 2 – Go Pro
12) Dorian & Echoround – Back To U
13) Satl – Let Me Be The One
14) Phase 2 – Stranger Things
15) Serum, Paul T & Edward Oberon – Burning
16) GLXY ft. Bell Humble – Lonely (FD remix)
17) Alibi ft. DRS – Said and Done
18) Bungle, Jubei & Tyrone – Stabs
19) Spectrasoul ft. Kenny Knots – Four points
20) Enei – Grave
The Mix
The Download
Useful Links
Treex Soundcloud | Treex Mixcloud | Treex Facebook
---
Induktiv – The French Connection | Part 6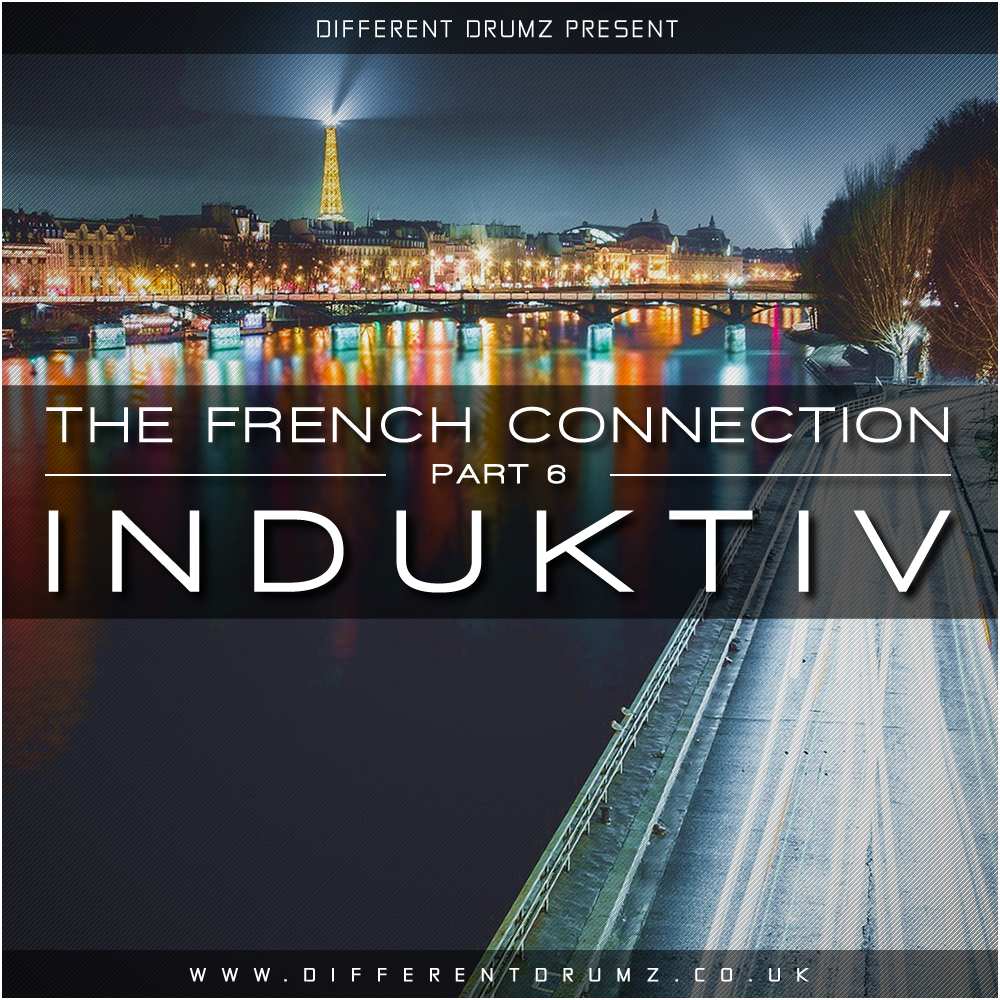 The French Connection mix series continues with another beautiful liquid drum and bass mix from yet another very talented French artist, we are very proud to introduce the sixth part of the mix series  from 'Induktiv'!
This mix features one hour of pure vibes  and includes tracks from the main man himself and other well known artists like Malaky, Basic Forces, LSB, RoyGreen & Protone, The Vanguard Project, Loadstar & more…
A Little More About Induktiv…
Installed since 2014 in the Paris drum'n'bass scene, Induktiv has since continued to mark its presence as well known producer, with unexpected and remarkable remixes (Lorenzo / Daler Mehndi) and as DJ, sharing the stage with the big artists like AMC, Smooth, Rene Lavice & Teddy Killerz  with the 'Get In Step' events in Paris. Today, under the name of his crew "Liquidz Spirit" he proves once again that he isn't about to stop.
As showcased by this fresh new exclusive mix, he has multiple influences mixing liquid, deep, neurofunk, but also some classics and other chart topping tracks of the moment that will make you travel to the heart of the genre between sweetness and powerful double drops.
The Track List
1) Induktiv – Escape
2) Digital Native – Memories
3) Basic Forces – Like You Do
4) Dua Lipa – Swan Song (Calibre Remix)
5) Malaky – Gone Away
6) Anthony Kasper – 10 Letter Word (Command Strange Remix)
7) Gunston – Serena
8) Polaris – Empire
9) Soul:Motion – Sentiment
10) LSB – The Optimist
11) Intelligent Manners & Command Strange – Memories (Satl Remix)
12) Lm1 & AirStrike – Torn Apart
13) Phaction – Aviatrix (feat. Riya)
14) Kasra – From The Outside In
15) Say it Right – Nelly Furtado [Conrad Subs Bootleg]
16) Hyroglifics & Signal – Make Me Feel
17) Cnof – Stars Go Out
18) Satl – Here with Me
19) RoyGreen & Protone – Who's Funky
20) MD – Blue City
21) Hadley – Talking
22) Deadline feat. Sydney – Through Your Eyes
23 Mage – Total Indifference
24) HumaNature – Tonight ft. Pixel
25) The Vanguard Project – Don't Let Go (feat. Charlotte Haining)
26) Radicall – Boogie
27) Loadstar – Stepped Outside
28) Silence Groove – Why Don't You
The Mix
The Download
Useful Links
Induktiv Facebook | Induktiv Soundcloud | Induktiv Instagram
---
More parts to this mix series will be added soon and this post will be regularly updated so make sure to come back soon & watch this space….