Lurch – Energy Is Paramount EP Remixed | DDR006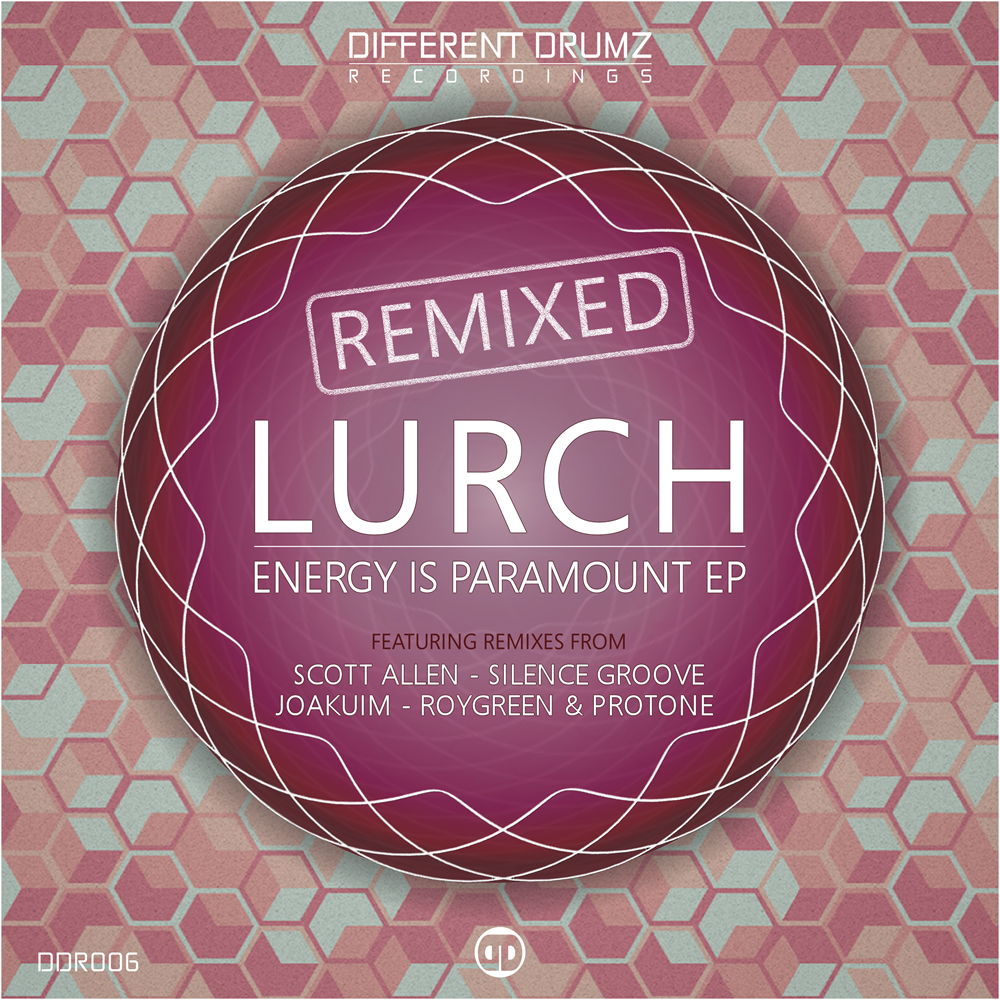 It has been a while since our last release on the mighty Different Drumz Recordings but we are back in style with a huge remix EP of our first release on the label that boasts remixes from Scott Allen, Silence Groove,  Joakuim, RoyGreen & Protone! We are very proud to present 'Lurch – Energy Is Paramount EP Remixed'.
This beautifully crafted remix EP combines the faultless production skills of the original artists from the first release, Lurch (Different Drumz / Soul Deep / Intrigue Music / Med School / Vibration), Al Pack (Different Drumz / Celsius / Jazzsticks /  Soul Deep / Think Deep / All-Out Grooves) and the vocal skills of Emerge MC with new artists to the Different Drumz roster and some of our favourite artists in the scene, Scott Allen (Soul Deep / Fokuz / Liquid V / Good Looking / Jazzsticks), Silence Groove (Fokuz / Offworld / Liquicity / Celsius), Joakuim (31 Records / Intrigue / Flight Pattern / Fokuz / Celsius / Soul Rebel) & none other than RoyGreen & Protone (Spearhead /  Innerground / Liquid V /  Dispatch / Fokuz)!
The journey starts with a new take on the title track 'Energy Is Paramount (Scott Allen Remix)' a lovely little liquid roller oozing with positive vibes that features vocals from both Lurch himself and Emerge MC!  Scott has made this track his own with a jungle inspired sub driven bassline and a sprinkle of the pure magic you will recognise from all of his releases.
Next up we have '90's Kid (Silence Groove Remix)' with the smooth jazzy vibes from the original spliced and manipulated to give the track a whole new sound yet keeping the feel of the original married with a deep soul shaking bass that is bound to suck you in!
As we roll into the third track 'Inhibitions (Joakuim Remix)' you will be mesmerized by the  soundscape Joakuim creates meshed with the jazzy piano licks and female vocal hooks we know and love from the original with his added sparkle of creativity.
We cruise to the end of your journey with the last page of the story 'I'll Be Waiting (RoyGreen & Protone Remix)' that kicks off with some tight beats sliding into some soulful thought provoking vocals before it drops with some solid and evolving bass and yet more smooth piano licks and drifting vocal hooks! This is an absolute gem of a track and a masterclass in clean and crisp production.
This remix EP is a beautiful 'tip of the hat' to the original release and features some truly spectacular remixes from some serious artists in the drum and bass scene!  This is definitely not a release to be missed and any drum and bass connoisseur would be sure to agree!
This EP is out now and available from all major digital stores.
Buy This Release
Juno Download | Beatport | Amazon | Deezer | Google Play | Spotify | iTunes
Audio Previews
Useful Links
Original Release 'Lurch Energy Is Paramount EP' | Different Drumz Soundcloud | Lurch Soundcloud | Al Pack Soundcloud  | Scott Allen Facebook | RoyGreen & Protone Soundcloud | RoyGreen & Protone Facebook | Silence Groove Soundcloud | Silence Groove Facebook | Joakuim Soundcloud