Induktiv – Different Drumz Podcast Episode 15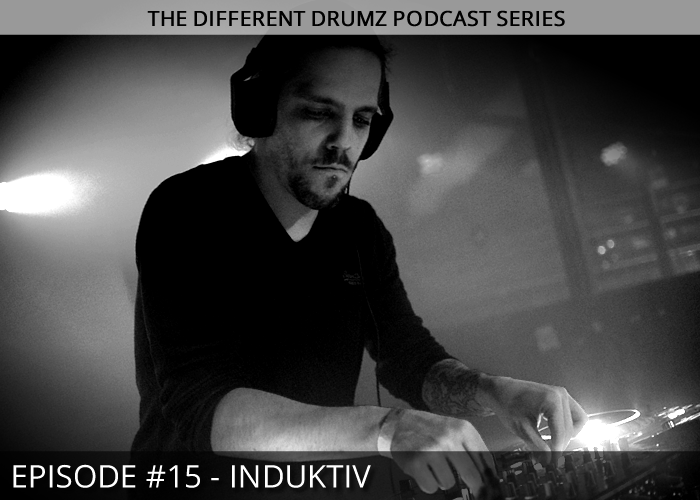 Episode 15 of The Different Drumz Podcast Series featuring a fresh and exclusive drum and bass mix and interview from France based Drum & Bass artist Induktiv (Fokuz / Different Drumz / Studio Drum & Bass / Tiger Class)
The Tracklist
1) Induktiv – Overthinking
2) Jungie – Feeling Low
3) Hazqa – The Lake
4) Shodan – Bouncebackability
5) Edlan – Horizon
6) Skeletone, Humanature, Silence Groove – Sparkling Orb
7) Edlan & Tremah – The Breakup (Ash.Ram Remix)
8) Induktiv – Deviance
9) AudioSketch & Surplus – Fragments
10) FD & Script – Monza
11) LM1 & Nelver – Disciple
12) Induktiv – Vanishing Point
13) Phil:osophy – Consequence
14) N.O.H.A. – Process Of Living (Filip Motovunski Remix)
15) Induktiv – Free Your Soul
16) Malaky & Satl – Her (Zero T Remix)
17) Drake Ft. Sampha – 4422 (Alix Perez Mix)
18) Skeletone, Silence Groove – Wicked
19) Submotion Orchestra – It's Not Me It's You (Alix Perez Remix)
20) Ed:it – Cargo Dub (Total Science Remix)
21) SpectraSoul – 4URGH
22) Induktiv & Madusea – Hyenas
23) Rift – Silence
24) Fosgate – Cold Blood (L-Side Remix)
25) Dub Phizix – The Clock Ticks
26) Motiv – Rain Check
27) Dub FX – Run (Random Movement Remix)
28) Treex – Debrown
29) Induktiv – Escape
30) Henry – Lets Move On
31) Melinki & Low:r – Whats Real
The Interview
Hi Induktiv, Thanks for taking the time to get involved with the Different Drumz Podcast Series. Please could you get us started by telling us a little more info about yourself and your music background for those that may not already know about Induktiv?
Hi Different Drumz, it's a pleasure for me! Well, my adventure as a Drum & Bass producer and DJ began after my first Let It Roll festival back in 2014, before that i've often been to bass music events in Paris such as Get In Step, Jungle Juice, and smaller ones. My musical journey started around by playing bass in some rock and metal bands and is now influenced by a lot of different styles, including jazz, hip-hop, world music and more classical stuff.
Please could you tell us a little more about some of your previous releases and some of the labels you have worked with over the years, Do you have a favourite release to date?
My first EP has been released in 2019 by Studio Drum & Bass including a collaboration with my french homie Madusea, this one is really dark and sharp and is available for free. My second release this year was a collab with HumaNature, 'Paroxysm' for his latest EP 'HumaNature & Friends' released on Fokuz Recordings, a dark track again but a bit more agressive than my own EP. Starting 2020 being involved in the french and young label Tiger Class first compilation, again with a very crispy and rolling tune. Apart from these, i've released a lot of remixes from various genres such as rock / electronic / french rap music (Lorenzo) and even indian pop (Daler Mehndi), the last two have been getting a lot of positive reviews. It's hard to choose on favourite release as i have fun making each one of them but i'd say "Paroxysm" for its heavy and slapping bass.
Following on from this, what can we expect in the not so distant future with regards to Induktiv releases?
I have my 'Overthinking EP' coming out a little later this year on your very own Different Drumz Recordings showcasing a bit more the liquid side of my productions. I also have some collaborations that should see the light of a release and some other tunes I am currently working on as well, still crossing borders between warm liquid and darker aggressiveness.
As previously mentioned, you have your next release 'Induktiv – Overthinking EP DDR009' due for release soon on Different Drumz Recordings. Could you tell us a little more about this release and how you have put the EP together?
This EP is definitely showcasing what I am into these days, a blend of organic and synthetic sounds (with somehow a lot of piano haha). This EP was made with no particular boundaries other than my feelings and musical tastes to date. The EP is due for release in all major stores from 15/06/2020 with an exclusive Beatport release available from 01/06/2020 to view the full feature on the release and to preview the tracks click 'Induktiv – Overthinking EP | DDR009'
Your music productions are all very clean and crisp and well produced. Do you have any favourite software, VST's or hardware that you always use in your music productions?

I started to produce with FL Studio and I am sticking to it. My favourite VST's are Serum, Trash 2, Tremolator, Transient Master, the Fabfilter bundle and more. I also like to use some stock plugins as well.
As we know you are from France which we have discovered is the home of many talented liquid drum and bass DJ's & producers, as we have showcased with our 'French Connection Mix Series' that you were previously involved with. What has your experience of the DnB scene been like over there and are there any more quality rising stars from France that we may not have heard of and you think we should keep an eye out for in the future?
Well in France, Drum & Bass, and especially the liquid side, still has to get more visibility but french talents are already crossing borders of the country with guys like Veak, Visages, The Caracal Project or Monty but some guys like my homies Treex, Hocseat, Hazqa, XtronX and Bobby are names to keep in mind, not forgetting Joakuim who's already making waves this year.
With all this current madness going on with the Corona virus and everywhere being in quarantine / lockdown we presume you have no live events lined up at the moment, did you have any regular events you used to play at before this all kicked in and do you plan on doing any live broadcasts or regular studio mixes to keep your fans up to date with their Induktiv music fix?
Yeah I make no exception having to cancel my events, including those I run with my 'Liquidz Spirit' family. I will definitely try to keep things going with some live streams on facebook or anywhere else possible to stay positive and share good vibes with my fans and friends.
Aside from the music what else do you like to do with your spare time when not in the studio?
I like to play video games, ride my VTT, watch movies and series, read books, go to raves with friends but most of all spend time with my dog.
Please could you tell us a little more about how you have put the podcast together and what can our listeners expect to hear in your podcast mix?
I made this podcast to showcase my latest tracks from the 'Overthinking' release & also some from my previous EP. It is a pretty rolling mix that will make you travel between sweet vibes and darkness.
Before we wrap it up, do you have any shouts you would like to give?
Special shout to my 'Liquidz Spirit' family which i have the pleasure to spread dnb with in Paris and online with our channels. Massive thanks to HumaNature for helping me improve my production skills. Also, big shout to the people supporting me over the years as they are part of my motivation to share my art and musical projects.
Ha ha. Finally, we always love to know what's in our favourite artists 'record box'.. could you tell us your top ten favourite tracks at the moment in any order?
Hard to choose 10 tracks as I am a big music consumer but here is a sample of what has influenced my music tastes over the years…
Black Sun Empire & Noisia – Feed the Machine
Shockone – Polygon
Enter Shikari – Sorry You're Not A Winner
Fatboy Slim – Right Here, Right Now
The Mouse Outfit ft. IAMDDB & Kinkai – Feeling High (Lenzman Remix)
DJ Shadow – Midnight In A Perfect World
Emalkay – Fabrication
Tyrone – Warriors
Nosaj Thing – Eclipse/Blue
Submotion Orchestra – Times Strange (feat Rider Shafique)
Useful Links
Induktiv Facebook | Induktiv Soundcloud | Induktiv Mixcloud | Induktiv Twitter | Induktiv Instagram | Induktiv YouTube