Trust Audio | Various Artists – Trust In Jungle Vol 1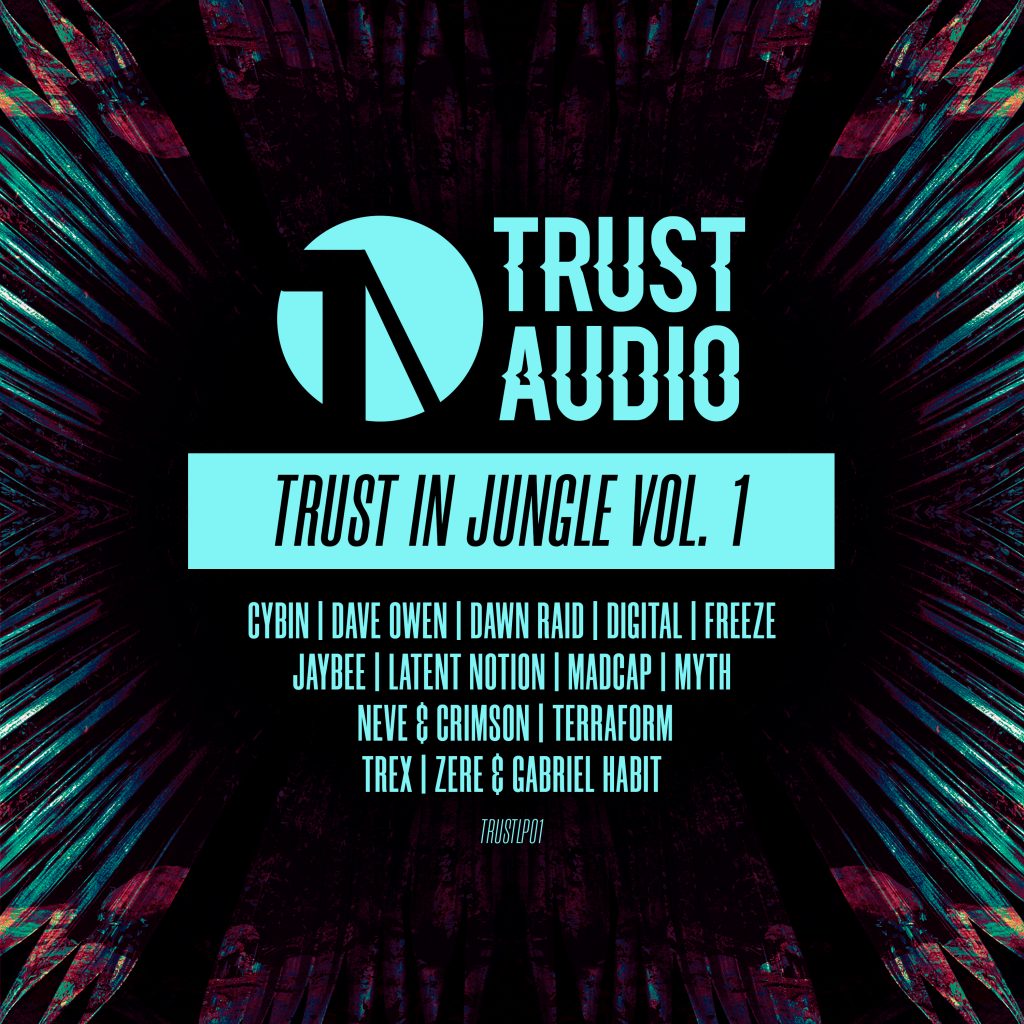 Trust Audio follow up their superb 1st 10 releases with an impressive & accomplished various artists Long Player featuring some serious talent & scene legends.
Aptly titled Trust in Jungle this LP takes us on a journey rolling through the rough terrain and scenic soundscapes of the many different paths of the Jungle. 13 tracks of sheer delight covering the whole Jungle spectrum.
Trust Audio label boss Trex steps in the arena & shows us why he is so revered by his peers. His album High Time was a big moment last year but the story doesn't stop there. Dub Pirates is a highlight amongst an awesome display of Jungle niceness. Trex shows his diversity to deliver any kind of style but still unmistakeably Trex. Creative Wax boss & badman the mighty Madcap keeps up the pressure with 'Step to this' a tribal roller to navigate your way through the heavy underbelly & this delivers like a monster jeep.
Cybin with his homeslice reflection entitled Brixham Jungle. A smooth melodic flight like warm rays of light shining through the canopy to warm your cockles before the predators awaken. Liquid jungle at its finest. The mighty Myth from Ill Truth also makes an appearance with a monster of a track called Crawl. A Jungle 2 step midnight marauder with a bassline to rip up the richter scale. Steppers business.
Next up is a cheeky little monkey that is 'Ruffian' by stateside champion Dave Owen, a bubblers anthem, swinging & bouncing with a wicked hook & cheeky sample done in effortless style. Jaybee steps up next with Hostile, like a stealth predator stalking its prey, the stateside don needs no introduction & certainly doesn't get caught napping on this one. Punchy drums with a sinister hook & morphing bass plus a PE sample, what's not to love?
Next stop is the man who needs no introduction the bonafide king of dubwise jungle making a special guest appearance, its the one & only Digital, taking a rare excursion from his legendary Function recordings imprint to grace this already impressive line up. Like a sniper on the prowl, finding his position, the man like Freeze returns following his superb co-lab with Jaybee last year of 'So Much More' he takes aim & shoots to kill with 'War Vibes' rolling with stealth & precision, there is no surrender. Dancefloor killer.
These tracks are just a taster of what is nothing short of an epic LP and all of which can be heard in the Trust In Jungle Vol 1 Mini Mix that is featured below!
This LP is due to be released soon with a beatport exclusive release out on 18/07/19
Audio Preview
Useful Links
Trust Audio Beatport | Trust Audio Website | Trust Audio Soundcloud | Trust Audio Facebook | Trust Audio Twitter | Trust Audio Instagram