Such Music | Stickbubbly – String Theory (Out 18th May 2015)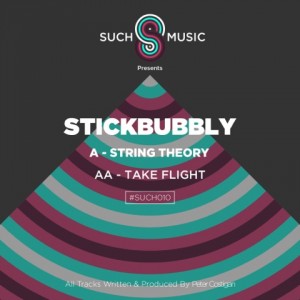 Back again for his third Such Music release is the man Stickbubbly, known for destroying dance floors and his superb musicality, brings us the ultra-smooth "String Theory" to warm us up for some summer time love.
String Theory is a straight up beautiful track, flowing like a smooth stream down a gentle creak. It's a track like this that helps to define the liquid genre, with beautiful chords, perfect accenting melodies and a bass line bubbling just like the man himself. "String Theory" is pure and honest, making it a perfect fit for Such Music's established sound.
The B Side "Take Flight" brings fans something a little different. This track drops into a perfect halftime beat that may take listeners by surprise. The depth and loveliness of "Take Flight" can't be ignored.
"When I first heard 'Take Flight' I felt the journey begin, with this kind of track you can just close your eyes and let go. I love it." – said Toomas Peters, owner, Such Music.
We are proud to drop Such Music's tenth release and look forward to keep putting out music we believe in!
Useful Links
Such Music : Website | Soundcloud | Twitter | Facebook
Stickbubbly: Soundcloud | Facebook