SoulTec – Different Drumz Podcast Episode 12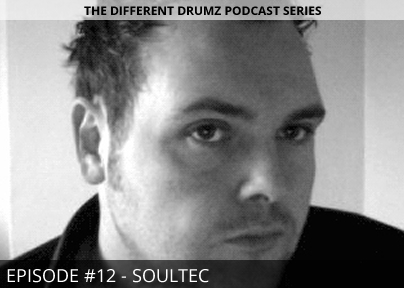 Episode 12 of The Different Drumz Podcast Series featuring exclusive mix and interview from UK D&B artist soulTec (Sheer Velocity / Soul Deep / Good Looking / Fokuz / Smooth N Groove / Liquid Drops)!
The Tracklist
1) DJ Patife & Vangeliez Ain't That Bad feat. DRS [Liquid V]
2) Subsid & mSdoS – Bakatwork [Forthcoming Liquid Drops]
3) Vice Versa – Moving On [Vice Versa Music]
4) Makoto – Take My Soul Baby (Remix) [Good Looking]
5) LSB & DRS – A New Day [Footnotes]
6) Calibre – Even If [Signature]
7) soulTec – Once More [Dub]
8) R1C0 – Step Right [Forthcoming Warm Ears]
9) Subsid & mSdoS – Whistle [Forthcoming Liquid Drops]
10) London Grammar – Hell To The Liars (soulTec RMX) [Dub]
11) LSB Feat. Sense MC – Pandora [Soul:R]
12) soulTec – Mellow Blues [Dub]
13) Furney – Liven Yourself Up [Forthcoming Sheer Velocity]
14) Joakuim – To Chant Down Babylon [Sable Noir]
15) Digital – Strictly DNB [Function Records]
16) JDL – The Runner (soulTec Remix) [Dub]
The Interview
Hey SoulTec, You are a long time friend of the Different Drumz Family and it has been a while since we have worked with you so we are so really pleased to have you involved with Different Drumz podcast series! How have you been and what have you been up to man?
Yeah great cheers man. You know how it is, work work beats and then more work.
Could you start by telling us a little more info about yourself for those that may not already know about you?
Im soulTec, from Oxford, which has produced some dnb legends in the past thats for sure. I guess I would be in the 'liquid dnb' side of things, although it's really just good music with vibes that I'm in to. Been trying to make tunes and djing for many years.
The roots of the music I love is in Jazz, soul, reggae and dub. Miles Davis, Wynton Marsalis, Dizzy Gillespie, Marvin Gaye and many many more. You can probably hear those roots in the music I make and play.
As we know you are a solid fan of the smooth and rolling drum and bass we love here at Different Drumz.. moving back, Was there a particular tune that switched you on to drum & bass in the first place?
I think the first tune that peeked my interest was Bukems Atlantis (I Need You) That got me looking in to what dnb or jungle what ever you want to call it. I then discovered the Bukem Mix Mag CD a few years later, and notably PFM's remix of Free La Funk by JMJ & Richie. That tune and that CD made me want to DJ.
Miles Davis – Kind Of Blue album is a huge inspiration to me too. It's an absolute masterpiece. And those deep moody jazz vibes is what I love. If you haven't you should check it out.
You have an impressive track record with releases on various labels including some of our favourites like Soul Deep, Sonata, Good Looking, Smooth N Groove, Liquid Drops & Fokuz… What labels are you working with and what releases do you have lined up for 2018 so far?
Got some things forthcoming on Smooth N Groove. Both Solo productions and some collaborations with A.K.A. Also going to be putting something out on Sheer Velocity at some point in the near future. I didn't really make much music in the last few years, but am really back on it now. So look out for hopefully some signings coming in the next few months.
As well as all these other labels you work with you have also set up your own label since we last spoke that you just mentioned 'Sheer Velocity Recordings', tell us how it came to become the highly rated label that it is today?
Yeah so we have been going since September 2012, Wow 5 years! That flew by. Also we are fast approaching our 50th release. Myself Mark Halflite and Danny Fridd decided to start the label, to release some of the great music we were being sent. Our first release was Furney's long awaited Charlottes song. We just want to put out great vibe music, If you have ever been to Fabios Swerve nights, then thats the kind of flavour we want to push.
I do all the artwork and we have our mastering done by Beau Thomas, who does an absolutely amazing job, of making everything sound as good as it can. We are not about quantity, and we don't have tons of releases a month. We just release stuff when its right to go.
We are on the lookout for great drum n bass. So if anyone is reading this and is sat on some wicked tunes. Please send them over.
What we can expect for the future from the Sheer Velocity camp?
Fast forward to now, weve just put out SVR045 which is an amazing 3 track EP from Conrad Subs, from Ipswich UK. Before that we had a Mukiyare release. Hes from Mexico City and is making some great stuff. So we are keeping things diverse.
Coming up we have a great releases From the mighty Furney (one of those tracks is featured in the mix), Subsid & mSdoS, Greekboy and Tim Cant to name a few. So keep your eyes peeled for more updates and great music soon.
What would you say is your proudest moment in music so far? Anything that sticks out?
Id say good looking putting my tune A Need In Me on vinyl and the Bukem in Session CD and also Bukem himself calling me up and booking me to play Room 2 at Fabric. After many years going there as a raver, to be gracing the decks was pretty amazing!
We love to find out a little more about our favourite producers and their methods with regards to production, what software/hardware do you use to produce your music & do you have any favourite VST's or programs you'd recommend?
I use Logic Pro. Just got my hands on a Native Instruments Komplete Kontrol S61 keyboard. Which I love. That along with the Komplete 11 package is certainly making me more productive. Also old jazz, soul and rare groove records give me lots of inspiration and brilliant samples to work with.
So, do you have any producers that you would like to work with that you have not had a chance to work with already and why?
That's a tricky one, tbh anyone who has some ideas they feel I could bring something to Im always willing to get on a colab.
Not strictly a producer but Id love to work on some dubwise vibes with the vocalist David Boomah. I think he's a wicked vocalist.
Would also love to get DRS to do some vocals for me. Sorry that didnt really answer that question. Oh well Haha
We already know you have worked with a wealth of quality labels, is there any labels that you would love to work with that you have not had a chance to work with already and why?
Would love to release some music on Liquid V.
As you know we are always on the scout for new talent here at Different Drumz and we love to promote and support new artists, Please could you tell us 3 producers that you think people should look out for in the future that they may not have heard of before?
NRDFCE is one to watch. We have signed some of his music and hope to do a lot more releases with him in the future. He's a talented musician and plays a lot of instruments on his tunes. https://soundcloud.com/nrdfce so check him out.
Also i mentioned him earlier Mukiyare. Making some wicked tunes.
Stereotype is someone else, that you must have heard of. He's from the states. Love his tunes. Need to put out more of his music. So Garry If you're listening, get some more beats over 🙂
Finally, we always want to know whats in our artists 'record box'.. could you tell us your top ten favourite tracks at the moment in no particular order?
Joakuim – To Chant Down Babylon (SableNoir)
Wyman – Innasphere (Smooth N Groove)
Madcap – River Soul (Forthcoming Soul Deep)
Furney – Liven Yourself Up (Forthcoming Sheer Velocity)
Subsid & mSdoS – Bakatwork (Forthcoming Liquid Drops)
GreekBoy & Tim Can't – Deep Screams (Forthcoming Sheer Velocity)
Atom – Cosmic Jazz (Influence)
Lenzman ft. Martyna Baker – Paper Faces (Metal Headz)
Madcap – String Puppet (Smooth N Groove)
SpectraSoul – Second Chance (ash Chat)
Also I want to add London Grammar – If You Wait (Calibre Alt Remix) Probably never have this in my collection 🙁
Ok Cheers soulTec, Once again one of Different Drumz originals, for stepping back to give us a more in depth idea of how you have expanded over the last 9 years! Lastly, Is there anybody you would like to mention, shout before we put the mix on and melt into Sheer velocity ??

Danny. AKA, Chris, Tyler and all the Smooth N Groove guys. Subsid, mSdoS, NRDFCE. And everyone else…
Useful Links
soulTec Facebook | soulTec Soundcloud | soulTec Mixcloud | Sheer Velocity Facebook | Sheer Velocity Soundcloud