Shaolin Audio | Vigorous & JS9 – Play Around / Nothing (Out 26th Jan 2015)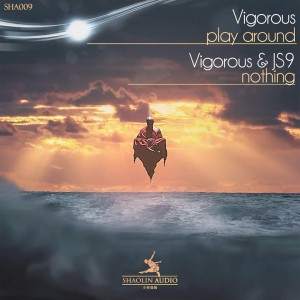 If you know smooth, deep, high quality drum & bass music, then chances are you will know Shaolin Audio. If not, make sure you check out their new release, Play Around/Nothing, from the main man Vigorous.
SHA009 sees Vigorous back for 2015 with two of his best tunes to date. His career has skyrocketed since kicking off the Shaolin Audio imprint, and his own productions have received support from some massive names including DNBTV, LTJ Bukem, Intelligent Manners and Krust, to name a very few. As well as Shaolin, his beats have graced Soul Deep, Soulflex Digital and Breakizm, and now he's bringing you some amazing music spread across Play Around, and Nothing with JS9.
Play Around is a sumptuous, emotional trip into the producer's psyche and beyond. The calm, considered intro sets up the track, building from a headnodding beat into a pared down main section. The vocal line remains constant, shimmering with added piano and strings which help to create and maintain the vibe. Vigorous does what he does best, bringing you into his world of music, leaving you in no doubt that he's not playing around. A great year for Shaolin Audio starts here.
Nothing, which features JS9, is more of a straight up mover, swapping breaks with a fatter bassline for a look at how Shaolin rock the dancefloor. Here, you're thrust right into the mix, with echoing drums mirroring the melody, as it switches on and off before the vocal sample comes in. As with its predecessor, Nothing is about how the producers see the world, and how they want you to see it. Funky low end is easily balanced with some neat synths, and the transitions make this one perfect for DJs looking for their next mix. All in all, a very large tune to start the year with.
SHA009 proves that Shaolin Audio are one of the big hitters in the game. Check out Play Around and Nothing to find out why. For more info check out the links below…
Soundcloud Links – Shaolin Audio | Vigorous | JS9
Facebook Links – Shaulin Audio | Vigorous
*AUDIO PREVIEW COMING SOON*