Selrahc Different Drumz Guest Mix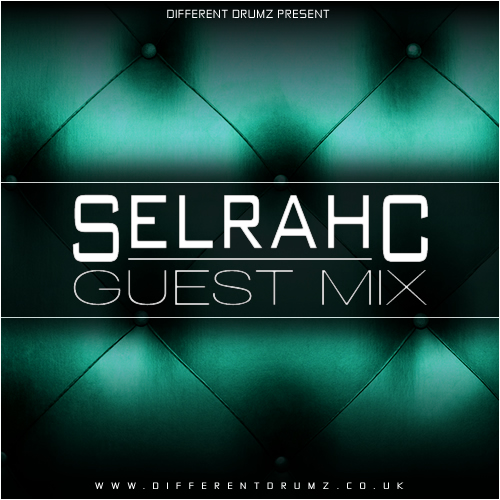 Here we have another new and exclusive dnb mix, this time from Seattle based artist Selrahc.
Selrahc has been mixing records since 1997. He got his start behind the decks in Abilene, Texas of all places.
Originally he was a Hip Hop dj but his love of Industrial music influenced his decision to play Jungle/Drum & Bass. As time progressed so did his ability behind the decks. He is known to play on 3 or 4 turntables at once and incorporates scratching and quick mixing during his live sets.
Over the years Selrahc has lived in Texas, Okinawa, Japan, Omaha, Nebraska and most recently Seattle, Washington. He frequently plays at Drum & Bass Tuesdays, the longest running Drum & Bass weekly in America. Not satisfied with just being a dj, Selrahc began writing tunes in 2010. His sound is a bit minimal, a bit techy, and a bit liquid but 100% Drum & Bass.
Recently, Selrahc collaborated with fellow Seattle native Drum & Bass DJ/producer Simpa and they released "Compounded" on Violation Music as well as "Close Call" on Minority Recordings. Be on the look out for more from this guy!
The Tracklist
1. Halogenix – Beyond the Bounds
2. Mako, Villem, Mcleod – Inner Revolution
3. Break – Give It Up
4. Madcap – Real Love
5. Stevie Neale, BenZel – Wasted Love (Spectrasoul Remix)
6. Boston – The Little Things
7. Foreign Concept – When You're Alone
8. Tasha Baxter, Icarus & Rain – How Do I Tell You
9. Spirit – VIP Dial
10. Ivy Lab – Live On Your Smile
11. Enei, Kasra, Drs – Overthinking
12. S.P.Y – Brstl Hardcore
13. Spirit, Digital, Response – Different Style
14. Krakota – Ghosts
15. Ulterior Motive – Sideways
16. Gerwin, La Meduza – Life Cycle (Break Remix)
17. Ivy Lab – Twenty Questions
18. Response – Desperate Planet
19. Halogenix – Soulide
20. Halogenix – Shores
21. Quadrant – Spinout
22. Seba – Shades Of Me & You
23. Nu:Tone – 'Til Dawn
24. Peven Everett, Alix Perez, Spectrasoul – Forsaken (Calibre Remix)
25. Loggi – Where's The Love Gone (Lynx Remix)
26. Zed Bias, Fox – Something About This (Nu:Tone Remix)
27. Hydro, Mako, DLR, Villem – The Formula (Break Remix)
28. Bungle, Villem – You & Me (Villem Remix)
29. Ulterior Motive, James Sunderland – Stay
30. Halogenix, Cleveland Watkiss – All Blue
The Download
Useful Links