RoyGreen & Protone (Austria)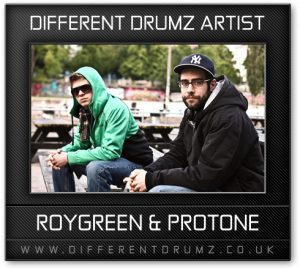 Thomas Mondel and Mathias Rauter, better known as RoyGreen & Protone, are two drum & bass producers from Austria. They first met in August 2010 at Vienna's infamous Flex Club and quickly began producing as a duo.
After some time they got on labels like Innerground, Liquid V, Soundtrax, Fokuz, Vandal, Demand, Blu Saphir, Intrigue, Rubik & now Different Drumz with a variety of music and collaborations with artists from around the globe like Pennygiles, Electrosoul System, Monologue, Paul T, Paul SG, BigBud, Lurch and more.
They have played all over the world spreading their good vibes like in Belgium, Italy, Switzerland, UK, Bulgaria, Russia, Germany, Czech Republic, Slovakia, Mexico, USA, Brazil, Thailand, China, Australia, and New Zealand. Probably one of their most prestigious events was playing infamous "fabric" in London for DJ Marky in an Innerground night.
Useful Links
RoyGreen & Protone Soundcloud | RoyGreen & Protone Facebook