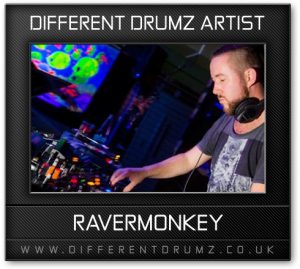 West London's Ravermonkey (Phil Davies) has always been around music since an early age and fell in love with electronic, jazz and House music at the tender age of 11. Buying vinyl was a passion for Phil which started with a weekly visit to his favourite record shop in Notting Hill escalating to a long raving weekend finishing off at Strawberry Sunday.
Originally Phil starting with playing Hard House, Brazilian and Funky and Soulful House  influences he discovered and sampled every genre until he was finally introduced to liquid drum and bass.After years of going to events and nights in and around London and watching in awe at his favourite DJs Calibre and Marky, Phil wanted some action of his own and started playing a merge of soulful liquid rollers and uplifting vibes.
His unique  sound didn't go unnoticed at some top lounge Bars and clubs Dog star Brixton and Area in Vauxhall  Phil got headhunted by Mixcloud to play his very own weekly drum and bass show on Liquidlive.net where he went from strength to strength gathering a large following all over the world.
Phil teaches in  PRU in West London helping children with bad behaviour difficulties putting them on the right path as well as teaching GCSE's he also pass on his devotion of mixing vinyl and producing beats which the students love. respect!
During his live shows here on Different Drumz you can expect  to be introduced to  high energy  liquid vibes of  new and old vinyl.
DJ Ravermonkey presents 'The Liquid Rollers Show' Playing strictly vinyl live with studio cam every wednesday from 6PM(GMT)! Make sure to check him out!