Payback – Different Drumz Podcast Episode 13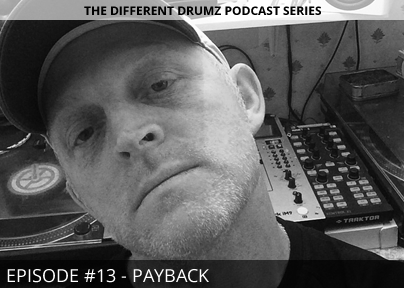 Episode 13 of The Different Drumz Podcast Series featuring exclusive mix and interview from UK based Drum & Bass artist Payback (Liquid Drops / Sheer Velocity / Soul Deep / Smooth N Groove / Exiled)!
The Tracklist
1) Foreign Concept – Breaking Again
2) RoyGreen & Protone – Found Love
3) RoyGreen & Protone – Deep Inside
4) 4-mage – No More
5) Phaction ft. Hugh Hardie – Signature Move
6) Arkaik – Chu Kou
7) Curricula & Diffusion – Alter Ego
8) Phat Playaz, Conspire, A.K.A & Payback – Untitled [Dub]
9) Payback & A.K.A – Let em Know [Dub]
10) Payback – Inevitable
11) Payback – Old Habits
12) Enei ft. DRS – The Process
13) True Tactix – Mighty Zion
14) Villem & McLeod – Wonderful
15) Payback – The Only One
The Interview
Hi Payback,Welcome. Great to have you involved with the Different Drumz podcast series. We have been admirers of your sound for quite a while now so of course we are really exited to have you join us & delve a little deeper! Could you get the ball rolling by telling us a little about yourself and your musical background for those who may not already know about Payback?
I've been into the scene since the early 90's, loved the energy of the early rave music which progressed into a love for breaks and also early house music. Always been into hip-hop and tuntablism and even competed in the DMC DJ championships from 98-2003. I started getting into DnB in the mid 90's but didn't start producing until 2005!
Do you play any instruments yourself where do you find your inspiration for your tracks and how they influenced your sound today?
No unfortunately I don't play an instrument other than the Technics. I listened to a lot of the early Calibre stuff as well as the Progression Sessions and loved that melodic deep atmospheric sound with the breaks, accompanied with my house influences kinda paved the way for my sound.
You have an impressive track record with various releases on some great labels such as Exiled Recs, Smooth N Groove, Soul Deep & Liquid Drops to name just a few, do you have a favourite release of yours to date and why?
I don't really have a favourite release as such rather certain tunes on certain releases a good example would be the 'Iconic EP' on Soul Deep
Top stuff, What labels are you working with at the moment or plan to in the near future and do you have some future releases lined up for 2018 that you could give us a little sneaky bit of info about so we know what to look out for?
At the moment I'm working with Smooth N Groove but have things in the pipeline possibly for Kriterion, Exiled and Soul Deep too. Currently working on another solo LP for Smooth N Groove and a colab LP for Smooth N Groove with A.K.A plus a release on Kriterion is on the cards as well so look out for those.
You have been booked to play out at a host of events all over of course with Perception & One7Six Do you have any more live events planned and when can we next expect to see you play?
Big label night in Northampton 11/8/2018 Smooth N Groove vs Soul Deep Recordings catch me there! Click here for more info on the event
We are always interested to find out a little more about our favourite producers and their methods with regards to production, what software/hardware do you use to produce your music & do you have any favourite VST's or programs that you would recommend?
I've always used Cubase with Reason to produce my music and love the Fabfilter and Izotope plugins, oh and the waves bundle is a must!!
We love to promote and support new artists here at Different Drumz, name 3 producers that you rate at the moment and think people should keep an eye out for in the future that they may not have heard of before or deserve more exposure?
Top 3 jeez' that's a hard one as there are so many but at the moment I'm loving Phat Playaz, A.K.A, Conspire, Wyman, Soul Connection and Greekboy even though these names may be known to some, I'm always impressed by how these guys strive to be better and it shows in every tune they make.
Could you tell us how you have put the DDz podcast mix together and what our listeners can expect to hear?
There's no real thought process lol I find a bunch of tunes I'm feeling and mix it up! Expect something a little different it's not all liquid vibes!
Before we wrap it up and sink into your podcast mix, do you have any shouts you would like to give?
Yer sure, out to Different Drumz (Sy & Will) for featuring me on the site, Melvin (Kriterion), Chris & Tyler (Smooth N Groove), JJ (Exiled), MsDos A.K.A, Conspire, Phat Playaz, Greekboy, Soul Connection, Wyman, Blade just to name a few. Also shouts to all that support my music, sorry I couldn't name you all but you know who you are!
Finally, we always want to know whats in our artists 'record box'.. could you tell us your top ten favourite tracks at the moment in no particular order?
This is tough but these are 10 tunes I love and would play anytime:
Spectrasoul – Shades of Blue
Icicle – Dreadnaught
Calibre – Mr Right On
Big Bud – Mission (Big Bud Remix)
RoyGreen & Protone – Storm
Villem & McLeod – Wonderful
Curricula – Alter Ego
Calibre – Off Key
Utah Jazz – Mike High Club
Phaction ft. Hugh Hardie – Signature Moves
Useful Links