Passenger Records | Aquasky – Shadow Era EP Parts 1 & 2 (OUT NOW)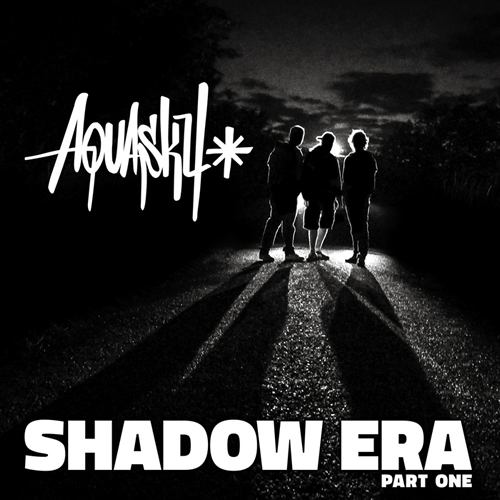 Three men, eight albums, five hundred tracks, four labels, numerous aliases, myriad genres: One machine.
Bournemouth trio Brent Newitt, Dave Wallace and Kieron Bailey have played by their own rules and stamped with their style since day one. 20 years deep into their game and the indelible Aquasky legacy is sprayed colourfully, thoughtfully and, at points, antagonistically over all shades and styles of electronic music since they started exploring the new wave of early 90s rave: drum & bass. Over the years, Aquasky have been signed to a major record label, worked with everyone from Noisia to Orbital, remixed Diplo & Wiley (as Black Noise) & topped the charts in Australia (to name just a few achievements)
In their 20th year in the game, the guys are proud to present you with their early work on seminal label Moving Shadow in the form of 'Shadow Era' parts 1 & 2. Signing to the label in 1995, the two albums showcase the music the guys were making in the era in the form of original tracks, remixes for the likes of The Art Of Noise, Omni Trio & Sneaker Pimps & a healthy dose of never heard before Dubplates.
Label: Passenger Cat: PASA016CD1 and PASA016CD2
Shadow Era EP.1
1. Aquasky – Images
2. Art Of Noise – Crusoe (Aquasky Remix)
3. Aquasky – Kuana
4. Aquasky – Moondance
5. Omni Trio – Who Are You (Aquasky Remix)
Shadow Era EP.2
1. Aquasky – Dezires (DJ Krust Mix)
2. Sneaker Pimps – Tesko Suicide (Aquasky Remix)
3. Larcany – Who Are You (Aquasky Remix)
4. Plane Invaders – Aquasky
5. Force Of Nature – Jazz Bell (Aquasky Remix)
6, Aquasky – Orange Dust