Nu Venture Records | Drum & Bass Summer Sessions 2016 Promo Mix by DJ Davine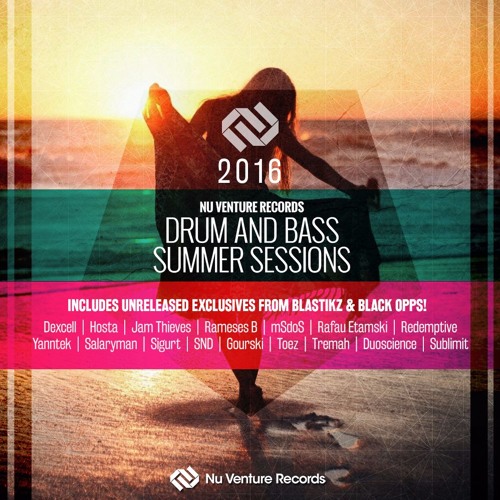 To celebrate the latest release from Nu Venture Records 'Drum & Bass Summer Sessions 2016 Compilation' they have put together a continuous DJ mix featuring all the tracks from the release and blended together by DJ Davine.
This is an exclusive mix that is only available when purchased with the full album but the Nu Venture team have been so kind as to let us have exclusive rights to put this set up for free download. The free download is 192kbps MP3, to get your ears on the original 320kbps mix you will have to check out the release!
NVR030 sees the release of Nu Venture Records annual compilation Drum & Bass: Summer Sessions 2016. For the labels 30th installment they present 31 tracks of smooth summer flavours, from liquid to deep, vocal & dance floor combined with a selection of heavier & darker sounds. Featuring classic NVR tracks and compilation exclusives, with brand new previously unreleased material, from Blastikz & Black Opps! Also including; a DJ Mix of the Summer Sessions 2016 release, showcasing all 31 tracks!
NVR030: Drum & Bass Summer Sessions 2016 is OUT NOW & available to purchase from all good download stores! Including; Beatport, iTunes, Bandcamp, Juno, TrackItDown, Google Play, Amazon & more. Also available on streaming services; Spotify, Google Play, Xbox Music, Apple Music, Beatport & more.
Go to the NVR Bandcamp page to get this 32 track release for ONLY £5.99! Or FREE with any NVR T-Shirt! Our full back catalogue is also available up to 60% cheaper than Beatport, iTunes & all other stores!
Artists include: Dexcell, mSdoS, Jam Thieves, Rameses B, Blastikz, Hosta, Duoscience, Sublimit, Tremah, Salaryman, Gourski, Toez, Redemptive, Black Opps, Yanntek, Magiic, SND, Rafau Etamski, Limitless, Whychek, Sigurt, Three20, Emphonic, Hyperion Vision, Nanoprobes & vocalists Holly Drummond, Voice MC, Marnie & Rachel Clark!
The Track List
01) SND – Where Are You Now
02) Emphonic – Deep Vibes
03) Sigurt – You & I
04) Sublimit – Cosmic Space
05) Black Opps – Babylon Recruits [RELEASE EXCLUSIVE]
06) Toez – Cracker
07) Toez – Monkeys & Typewriters
08) Toronto Is Broken Ft. Marnie – Lights (Salaryman Remix)
09) Duoscience – Intent
10) Jam Thieves Ft. Voice MC – Concrete Jungle
11) Rafau Etamski Ft. Rachel Clark – Do That To Me
12) Redemptive – Within Nature
13) SND – Foresight
14) Gourski – Turtle Spin
15) Macca – Love Is Tender (Hosta Drum & Bass Remix)
16) Blastikz – Afraid To Let Go [RELEASE EXCLUSIVE]
17) Rameses B Ft. Holly Drummond – Stones
18) Yanntek & Magiic – Multiverse
19) mSdoS – Provision
20) Three20 – I Can't Stand It
21) Hyperion Vision – RC Project
22) Tremah – Encounter
23) Rafau Etamski – Push For Love
24) Tremah – Webs
25) Rafau Etamski – Miss You
26) SND – Everything
27) Nanoprobes – You Said
28) Limitless – Dreamscape
29) Rafau Etamski – Lush Dream
Not in the Mix:
30) Whychek – Restraint
31) Talon Ft. FS – Faded (Dexcell Remix)
The Download
Buy This Release
Bandcamp | Beatport | iTunes | Juno  Download| TrackItDown
Useful Links
Nu Venture Facebook | Nu Venture Soundcloud | Nu Venture Twitter | DJ Davine Facebook | DJ Davine Twitter