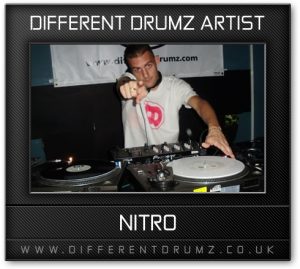 Mr Nitro is the creator and co owner of Different Drumz (www.differentdrumz.co.uk) and has been mixing since 1993. His love for the underground music scene all started from a very young age long before then as he grew up listening to hardcore, oldschool, jungle and drum and bass on a wide variety of pirate radio stations such as Dream, Origin, Rude and Kool FM.
Predominantly a D&B Nitro has been collecting vinyl for many years ranging from Old school and Jungle all the way through to jump up and more importantly the best in liquid, tech, minimal and deep D&B that he plays today and has followed the scene his whole life. Nitro has also been producing his own tracks since 2003 (when he has the time between the many projects he always has going on) using many programs including Reason and Cubase.
Nitro specializes in Drum & Bass, jungle and old school and has been known to play with a bit of everything including garage & breakbeat too. His main weapons of choice are 2xTechnics 1200′s & pure vinyl but also uses Serato Scratch to play his own tunes, digital tracks and forthcoming releases and has recently acquired a pair of Pioneer CDJ 1000's. Nitro has been playing out since 1996 all over the UK and Europe and has featured at almost all types of venue including pubs, clubs, raves, various radio stations including Origin FM, Eruption FM, Laylow FM and over 6 online radio stations!
Always looking for ways to 'share the love for D&B' and to have his own stamp on the drum and bass scene, he has now built and runs his own online drum and bass radio station & promotion 'Different Drumz' for which he has BIG plans!
Nitro's main focus over the last few years or so has been on his music production, improving and running DDz to the highest standard as possible and his web design work, for more details visit www.n2odesigns.com
To date Nitro has had tracks released with various record labels from around the world including; Influenza Media (Netherlands), Liquid Brilliants (Russia), Liquid Drops (Greece), Erculean Recordings (UK), FX909 Music (France), Young NRG Productions (Italy), Dirt Lies & Audio Black (UK), Extent Recordings (UK), Distorted Records (UK) and of course his own label Different Drumz Recordings (UK). Nitro has plenty more in the pipeline and due to be released in the future. For more info on releases and mixes from Nitro visit www.dj-nitro.co.uk
He has big plans for the future including plenty of new tracks, collaborations, events, radio shows & much more.. watch this space!
Nitro presents 'The Surprise Sessions' Live on Different Drumz on random days and times playing everything from Liquid, Deep, Minimal, Tech & Classic D&B/Jungle to Breaks & Oldschool! This show is always rammed full of fresh and forthcoming D&B too, make sure to check them out and keep an eye out for his next show!
Useful Links
Nitro Website | Nitro Soundcloud | Nitro Facebook | Nitro Youtube
If you would like to book DJ Nitro for an event please contact [email protected]