Lurch – Different Drumz Podcast Episode 9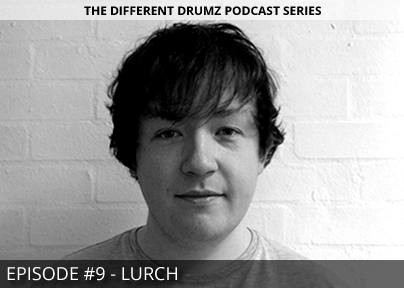 Episode 9 of The Different Drumz Podcast Series with exclusive mix and interview from our good friend and rising star in the DnB scene Lurch (Soul Deep / Intrigue / Think Deep / DNBB / LDNB)
The Tracklist
1. Euphorics – Morning star (Instrumental)
2. DJ Patife – Briso del Mar
3. Loz Contreras – Sienta (Paul SG & Jay Rome remix)
4. Lurch – Low sometimes
5. Discord – Snowflake
6. Satl – BLO
7. Lurch – Beating heart
8. Wyman – Blue moo
9. Lurch – Confessions
10. Silence Groove – Reflection
11. Loz Contreras – Baby it's  you
12. Lurch – Body language
13. Boosta & Atmos T – Lowdown
14. King bee – Back by dope demand (Al Pack bootleg)
15. Kasper & Altitude – Reason to ride
16. Phase 2 – Wibbler
17. Lurch – Moonbeams
18. Technimatic – One way
19. Commix – Be true
20. Hugh Hardie – Colourful language
21. Bladerunner – Soul sense
22. Lurch – I can't lose you (L-side remix)
The Interview
Hi Lurch, firstly we hope you had a great X-Mas and New Years & thanks for getting involved with the Different Drumz Podcast Series! We have been friends for a while now but for those who have not heard of Lurch please could you give us a little info about yourself and your music background?
Hello! We have indeed and thanks for getting me involved! I've been producing drum & bass properly for about 2 and a half years but was using software on and off for a few years before, just learning the basics and that. My musical background is bands really, I was in bands from the age of 16 all the way up until a couple of years ago so that's how I learnt all about playing live, songwriting and recording in a studio. I'm now applying that experience to Drum & Bass.
You are pretty new to the drum and bass scene yet you have already had a host of releases on various labels, please could you talk us through some of the labels you have worked with so far and your previous releases? Do you have a favourite release to date?
My first release was with a brazilian label; DNBB. After that I released with LDNB and shortly after with Soul deep recordings which was my first 'noticeable' release really, as people started giving me a lot of positive feedback which spurred me on a lot. After that I worked with Think deep recordings which are putting out some really nice, jazzy sounds. I've had a couple of bits forthcoming on Intrigue for a while and I have to give a shout out to Ben Soundscape, as he really pushed a track called 'Body language' and now the likes of Fabio, Bailey, Random movement and Break amongst others are showing it support which I'm immensely grateful for.
You have been banging out the tunes recently, do you have any spare time to do anything other than get creative in the studio and if so what do you get up to?
Usually just working my way into a drunken state of thoughtfulness which often leads to new ideas for tunes. Everyone should give it a go, I reckon.
With regards to your music production, what software/hardware/instruments do you use and how would you describe 'your sound' to those heads who have not heard any of your tracks before?
My setup is extremely basic compared to a lot of the bigger producers out there. All I use is a windows laptop with reason 6, a casio keyboard and some rokit 5 monitors. That's it. I read an interview with Chimpo recently where he said you don't need huge amounts of equipment to make stuff that people are into and I totally agree.
I would describe my sound as very musical, jazzy and soulful. I'm trying to steer away from being pigeonholed too much into the liquid genre, as I really admire people like Pennygiles and Command Strange who are capable of making any type of D&B. I'm crap at sampling as well so expect to hear a lot of piano, guitar and vocals all by me.
Who are your favourite dnb artists at the moment and do you have any particular artists that inspire you or you would like to meet or work with?
I think two of my favourites are Al Pack and Wyman at the moment, well worth checking out. I'm heavily influenced by the Russian scene; people like Intelligent Manners & Command Strange who have an amazing knack for sampling old, soulful records. The Polish scene is killing it at the moment as well with people like Skeletone, Silence Groove and SATL. The Brazilian scene always needs a mention aswell with guys like L-Side, Level 2 etc. There are so many artists I love though so I'm going to be very selective with these newer guys otherwise you'd have about 3 pages of people on your website. (Also Clarity – he's doing something completely futuristic, it's mad)
What do you have in store for our listeners with your podcast mix?
I wanted to include a lot of forthcoming tracks from myself plus some current favourites. I feel very excited not just about the amount of support people have been showing my music but how healthy drum & bass is in general. People from literally all over the world are consistently writing amazing tunes and I can't see that stopping any time soon!
So we just stepped into a new year, do you have any big plans for 2015 and could you tell us about some of the labels and releases you have lined up for the future?
As I said before I've got some bits and pieces coming out on Intrigue, plus a couple of collabs with someone I forgot to mention – Joakuim (jazzy as ya like). I'm really excited about an EP I've got coming out on Flexout Audio soon, a couple of tracks that are a departure from what people are used to. In general I just plan to keep making music that I love making and that people seem to be loving too!
With regards to drum and bass events, do you have any gigs lined up for 2015 or any particular events that have cought your eye & you plan to attend?
My good friend Jacky P who runs foundation in Bristol always helps me out with gigs and there's a really good one I'm involved with on 27th Feb with a serrrrrious lineup so that's worth checking out. In terms of attending I'll just have to play that one by ear.
Before we wrap things up do you have any shouts you would like to give?
One of my best pals Bobby a.k.a Codec, who has taught me a substantial amount about production and without whos patience and advice I wouldn't have got this far so cheers, mate! Another best mate Henry a.k.a CRL, equally as important by teaching me everything he knows about DJing, Jacky P for the live support and Ben Soundscape for making sure my tunes are getting played! And of course you, old bean 😉
Finally please could you give us your current top ten tracks be it dnb or any other genre?
King Bee – Back by dope demand (Al pack bootleg)
DJ Marky – Silly
Levelz – LVL 07
Glen E. Ston – You give me love
Royce da 5″9 – Boom
Bladerunner – Soul sense
Break – Moving on
RJD2 – 2 more dead
Spanky Wilson – Sunshine of your love
Clarity featuring T-Man – Hell's gate
Useful Links