Lockdown Recordings | Cybin & Trex – Initiate (Ill Truth Remix) / Ill Truth – Change My Mind (Out Now)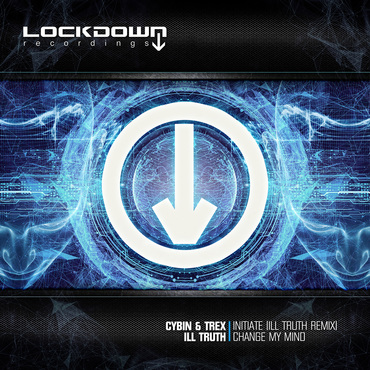 Since 2003, Lockdown Recordings has represented jungle and drum and bass music in the South West. However, following a plethora of releases, they've been making a name for themselves, with names such as Cybin, Trex, Locksem, Jaybee, Zerosum and Superior Selectionz all taking pride of place in their roster. And for the end of this year, they've got one more single to drop on an unsuspecting audience. Headed up by imprint stalwarts Cybin, Trex and Ill Truth (Lifestyle Music & AFT), their collaboration comes as a welcome addition to Lockdown's ever growing discography. A discography which has taken serious shape recently, bringing forward some of the finest cuts the underground has to offer.
The first offering comes in the form of a remix from Ill Truth. They take on the already impressive 'Initiate', a track by Cybin & Trex and one which has seen its fair share of sets over the past twelve months. Ill Truth spin the record on its head, giving it their signature sound whilst also keeping the originals darker roots. The crushing bass is more overbearing, although at first this doesn't seem possible compared to its earlier version, whilst the LFO grabs you from underneath. It still utilises the omnipresent vocal sample, which conjures the intimidating vibe prevalent throughout the mix. Each layer builds on top of the next, giving it a weighty composition and one which hits harder with every punch. Ill Truth do not disappoint, demonstrating what Lockdown Recordings have been about since their inception.
Then comes a singular contribution from Ill Truth, an effortlessly smooth number which orchestrates carefully woven sonic and an understated impact. This track is a vastly different journey, instead using cascading breaks to build on its ferocity. It stills features an intimidating depth, with skittering hi hats and pedalled drum rolls. Tinny pads help pull you through the mix, simultaneously leaving you to bask in its production finesse, and its driving rhythm. Ill Truth set a standard, proving why Lockdown Recordings have been a talking point throughout 2016. And with fresh music such as this next single, it's looking to be an even bigger succession of releases in the coming months.
This release is available from all major digital stores 09/01/17
Audio Previews
Useful Links
Lockdown Website | Lockdown Soundcloud | Lockdown Facebook | Lockdown Twitter