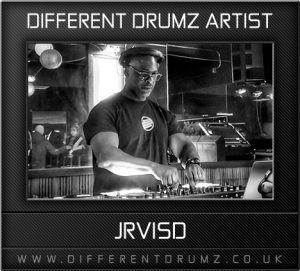 JrvisD (Jarvis Foster) is a seasoned DJ. He was born in Alabama, and grew up in many places. Learning the culture and sounds from different areas such as Asia (Seoul Korea), Dallas Texas, Fort Lauderdale Florida, and Tennessee. He now lives in a small town outside of Fort Wayne Indiana alongside the Amish. He has been a lover of music since the age of 10.
He has been a DJ for over 14 years now. His desire to be a Dj started with his first mixtape of Detroit/Chicago house which then moved into jungle and atmospheric drum and bass. His heros at that time were Frankie Knuckles, Mr. Fingers and LTJ Bukem. He is an Afro, Deep House and Liquid Drum & Bass Djay working on becoming a producer of all 3 genres.
He has worked with and played alongside artists such as Ty Causey, Dj E-Clyps, Dj Deeon, Striker, Dj Endo, Dj Eqknocks just to name a few. He has worked with artists from labels such as Dirtbird, UltraMusic, and Defected Records. A believer in the creativity of music from all genres, has given him the desire to become a producer also to add to his list of things to tinker with.
He feels that the rhythmic frequencies of music can help heal, change, inspire, and create a mood of euphoria like nothing else in this universe. His goal is to help you on your journey to feeling good with the sounds he creates and plays. Hopefully his music will help create change that unifies us all instead of dividing us. One race, one people!! Music has always been the answer! You just have to allow yourself to "HEAR" it.
JrvisD presents 'The Rhythmic Frequencies Show' live on Different Drumz Every Saturday 5-7PM GMT / 12-2PM EST

Useful Links
JrvisD Website | JrvisD Facebook | JrvisD Mixcloud | JrvisD Twitter | JrvisD Instagram