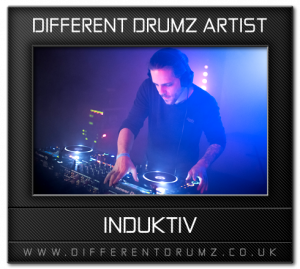 Induktiv (Arnaud Cuvillier) is a DJ and producer from the Paris area in France. Since 2014 he's established his name and continues to mark his presence within the scene with unexpected and remarkable remixes (Lorenzo / Daler Mehndi), his first EP released on Studio Drum & Bass and a collab with Humanature released on Fokuz Recordings, he is now also signed to Different Drumz Recordings and has his debut EP on our own imprint landing soon.
As a DJ he already had the chance to share the stage with some bigger artists in the scene like AMC, Smooth, Rene Lavice & Teddy Killerz thanks to the 'Get In Step' events in Paris.
Today, under the name of his crew, running the "Liquidz Spirit" project, he proves once again that he isn't about to stop yet.
With his multiple influences mixing liquid, deep, neurofunk, but also some classics and other chart topping tracks of the moment, he will make you travel to the heart of the genre between sweetness and powerful double drops.
Induktiv Tracks / Remixes
Induktiv Studio Mixes / Live Sets
Useful Links
Induktiv Facebook | Induktiv Soundcloud | Induktiv Mixcloud | Induktiv Twitter | Induktiv Instagram | Induktiv YouTube