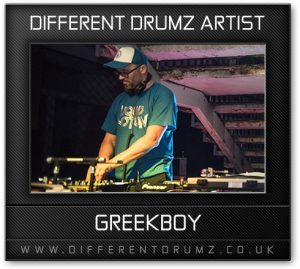 DJ GreekBoy (Andreas) is a DJ/Producer from the beautiful island of Zakynthos in Greece. From a young age he was experimenting with playing music at his home, in party's and for many friends in various clubs and bars.
His musical influences at first were hip hop, funk, jazz, disco, house and rock, but from the late 90's everything changed when he randomly listened a radio broadcast with Dbase and his show "rave alarm" at space fm. Since then his journey has taken him through the sounds of breakbeat, jungle, happy hardcore, oldskool and finally drum and bass.
His favorite DJ's and producer's include: LTJ Bukem, Intense, Big Bud, Tayla, Pariah, Future Engineers, Blu Mar Ten, Seba, Furney, ARP1, Paul SG, Blade, Bass Flo, SL2, Ray Keith and many many more…….
GreekBoy has recently been working on his music production and now presents his own show right here on Different Drumz playing everything from smooth and soulful liquid DnB to Jungle, Oldshool, Breakbeat & hardcore so there is guarenteed to be a little something for everyone.