Funkware – Different Drumz Podcast Episode 8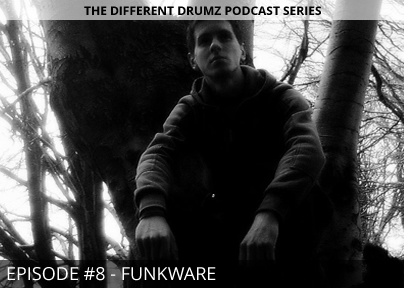 Episode 8 of The Different Drumz Podcast Series with exclusive mix and interview from Bulgarian D&B artist Funkware (Funkstuff / Good Looking / Inform / Textures Music Group / Vibration)!
The Tracklist
1) Funkware – Gonna Live My Life (Think Deep Recordings DUB)
2) Funkware – Calligraph (DUB)
3) Funkware – Oye (Inform Records)
4) Funkware – Wah Wah Song (Funkstuff Recordings)
5) Funkware – Breakthrough (DUB)
6) Anth M & Msdos – Funky Woman (Soul Deep Recordings)
7) Funkware – Bodyrocker (Funkstuff Recordings)
8) Satl – Peace & Love (Free Download)
9) Paul T & Edward Oberon – Trust Me (Liquid V)
10) Funkware – Just You (Inform Records)
11) Funkware – Never Too Late (Inform Records)
12) Funkware – Lemonade (Liquid Drops)
13) Paul SG – Soulrider (Jazzsticks Recordings)
14) Funkware – Future In The Past (DUB)
15) J:Logic – Scattin'(Stepping Forward Records)
16) Funkware – High At Noon (Funkstuff Recordings)
The Interview
Hi Funkware, Thanks for taking the time to get involved with the Different Drumz Podcast Series. Please could you get us started by telling us a little more info about yourself and your music background for those that may not allready know about Funkware?
Hey there, my name is Kiril Bonev and I'm from Bulgaria. I've always been a music lover and wanted to do something with music. Running through trance, techno and later into the funk, jazz, soul and hip-hop, I was introduced to Drum & Bass over 4 years ago. Meanwhile I was learning to mix all of these genres. Then at the end of 2011 I had an accident with my legs and I had to stay and relax at home for a month so I decided to try making my own music and thats what set me off on my way to where I am today. Thanks to my music influences from previous years I managed to find my place in the world's DnB scene creating and playing my own jazz, funk and soul infused Drum and Bass & now I'm feeling like the happiest man in the world.
Please could you tell us a little more about some of your previous releases and some of the labels you have worked with over the years, Do you have a favourite release to date?
To date I have over 40-45 releases (released) and the number is getting bigger and bigger every month. I have releases on over twenty record lables including some of the biggest ones – Goodlooking Records, Vibration Records, Textures Music Group, Inform Records, Soul Deep recordings and many more. My best release in my opinion is my "Lifestream LP" on Soul Deep Recordings. That's the album that I feel describes me and my sound perfectly.
Following on from this, what can we expect in the not so distant future with regards to Funkware releases?
I have some very good releases planned for various different record labels including some releases on vinyl as well. I don't want to give anything away just yet – you will have to wait and see 😉
As some people may already know, you run your own record label 'Funkstuff Recordings' could you tell us about your plans for the label and how you got it started in the first place?
Yes, me and a very close friend of mine are running Funkstuff Recordings. My idea, when we started this project, was to show the people the different sides of Liquid DnB and I think that we are doing it well at the moment. We have signed some great artists so far – some of the big names in the scene and some newcomers, but all are passionate to the same idea as ours.
As we know you are from Bulgaria, what has your experience of the DnB scene been like over there?
Here we have one of the best scenes in the world if I do say so myself 🙂 For such a little country we have seen every big artist so far. A little sad, but as it's everywhere, bulgarians also prefer the dark side of Drum & Bass, that's why I haven't had so many live performances over here.
For those that have not yet been lucky enough to catch you at a live DnB event, what event dates you have in your diary and do you have any events planned for us folks here in the UK?
As I am fairly new to the DnB scene, I haven't had so many live appearances as of yet – There has been a few for some bulgarian crews and also I have played at events in Romania and Serbia. I have some plans and requests from a few crews over Europe and even America, but I would prefer to tell you when I have the full details.. watch this space 🙂
Its apparent that you must have a huge selection of lovely funk and soul samples that you use in your music, how big is your music collection and what does it mainly cosist of vinyl, CDs, digital?
As I mentioned I have many different influences. My collection is mostly on MP3 and WAV. Over 20GB of music that I love. Some cd's, a few vinyls.
Aside from the music what else do you like to do with your spare time when not in the studio?
Well, the same as the most other people really, I love to hanging out with friends, I love to travel to new places to explore the nature and the music! With my daily job, there is not so much time for many things, everything has to happen on the weekends. I'm mainly doing music or working on things for the label.
Please could you tell us a little more about how you have put the podcast together and what can our listeners expect to hear in your podcast mix?
My mix is different from my usual mixes – it's very fast, mostly containing my tracks, including tracks from my last EPs on Funkstuff and Inform and for the first time a lot of unsigned material and tunes from artists which I'm supporting as well. I hope you like it…
Before we wrap it up, do you have any shouts you would like to give?
Yes, special shouts go to Toby from Vibration and Mo from Inform. For all my friends and fans from Bulgaria and the whole world!
Finally, please can you give us your current top 10 or so tracks – DnB or any other genre?
Hah, I like so many different tracks.. so, so many I would never be able to narrow it down to just 10, so I will just list some of my favorite groups: Jamiroquai, US3, Brand New Heavies, Ohmega Watts, Guru, James Brown and many more going into the Funk, Jazz and Hip-Hop music.
Useful Links
Funkware on Facebook | Funkware on Soundcloud | Funkware on Mixcloud
Funkstuff Recordings on Facebook | Funkstuff Recordings on Soundcloud