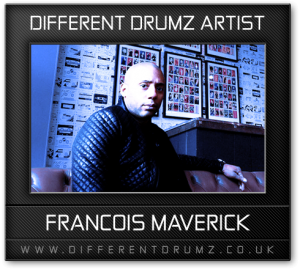 Francois Maverick was born in the UK-East London and has been Dj-ing and producing tracks for over 5 years.
He has always had an interest in music, but his notable times was as a young boy growing up listening to Musical Masters from the 80s and 90s covering different sounds such as Opera to Hip hop to Classical, Film soundtracks, Electro, Soul, Dub, Jazz, Drum and Bass, Reggae and Dub music.
DJ Francois Maverick plays a number of different types of music from within his arsenal, however his love and favourite genre is Liquid Drum and Bass. Listening to Rave tapes, from the early and mid 90s, the variety in sounds and styles took him on a journey that helped to open his senses and elevate his mind to a level of understanding where music becomes beats and themes hovering on different layers.
Toward his late teens he became heavily influenced by the likes of LTJ Bukem, Fabio, Francois K, Leftfield, Jean Michel Jarre, Paul SG, The Prodigy, Makato, Randall, Moving Shadow records, Shut up and dance and countless others. These all formed and shaped his direction on sound, beats and Dj-ing.
"I want you to be entertained and I want you to enjoy it as much as I have listening to people that have influenced me within the rave scene".
Music…..you can feel in your body, you can feel it in your soul, it can make you happy, it can make high, but ultimately….what music can do is bring people together. Its that feeling….
Francois Maverick presents 'Mavericks Liquid DnB Show' every other Thursday live on Different Drumz 8-10PM (GMT)
Useful Links
Francois Maverick Soundcloud | Francois Maverick Facebook |Francois Maverick Mixcloud| Francois Maverick Twitter