Roni Size & LTJ Bukem UK Tour | Brighton, Northampton, Birmingham, Liverpool
Date/Time
Date(s) - 31/01/2020 - 09/02/2020
10:00 PM - 6:00 AM
Location
The Arch
Categories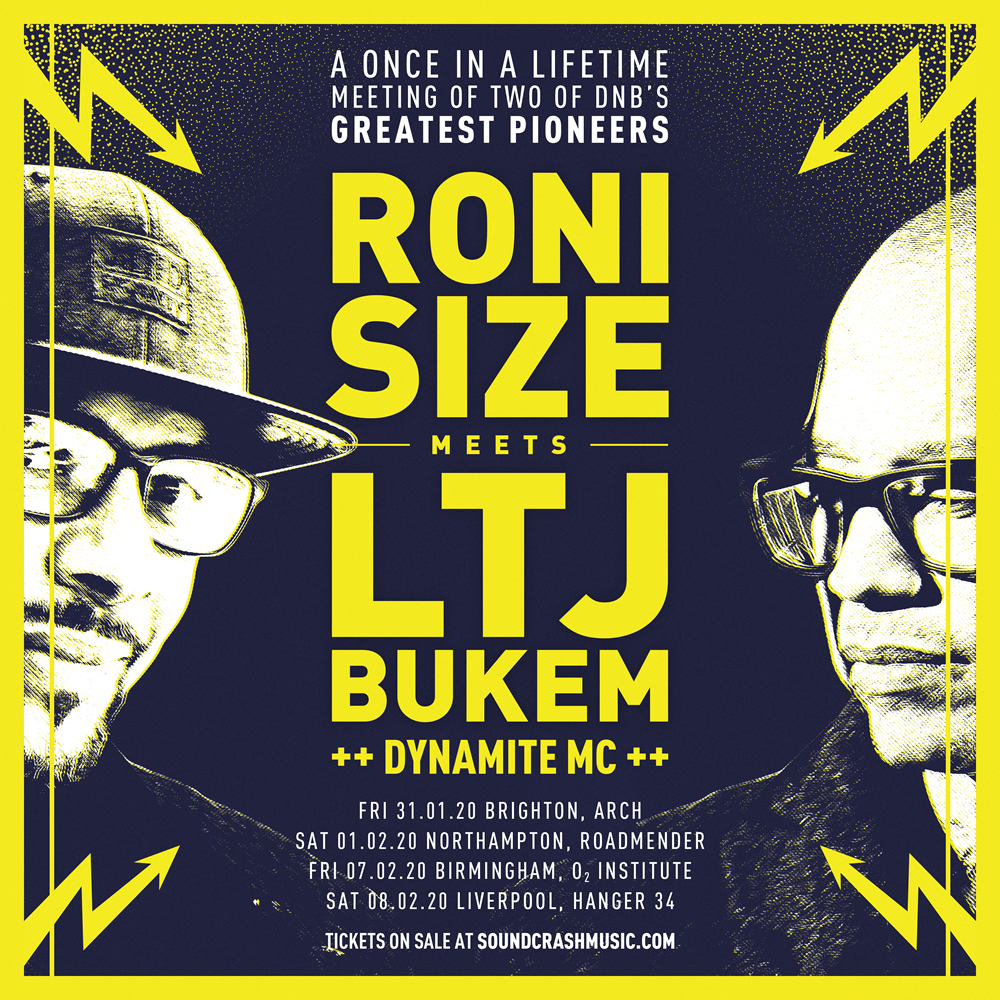 Two absolute legends in the game, LTJ Bukem and Roni Size, are reuniting for a double headline show of mindblowing drum 'n' bass with a UK tour hitting Brighton, Northampton, Birmingham, Liverpool.
LTJ Bukem
Emerging out of the late 80's as a DJ, LTJ Bukem discovered his passion for drum and bass when exploring the realms of jazz fusion. So it's natural that when Bukem's career as a DJ progressed in the early 90's and he found himself delving in to the studio, it was these frantic breakbeats in tandem with the melodic, yet almost awry basslines of jazz instrumentation that informed Bukem's creations, developing a progressive and textured sound equal parts anthemic and tranquil. The album was titled 'Logical Progression' and marked Bukem as an innovator, a tag that has stuck through his work on his own esteemed Good Looking Records imprint, and still bears strong today as Bukem continues to DJ extensively across the globe under his 'Progression Session' banner.
Roni Size
Bristol native Roni Sizeis one of the U.K. jungle scene's most respected names, with production credits spanning dozens of labels, projects, and releases. Although not as quick to rise to acclaim (either critical or popular) as peers such as Goldieor LTJ Bukem, Size's influence as a producer, label owner, and committed underground magnate figured him as one of the emerging sound's true pioneers. The breakout success of his debut albumNew Forms (including Britain's prestigious Mercury Award) finally confirmed his stature and vaulted him to a greater degree of popularity than any other drum'n'bass producer.
See you down the front!
Tour Dates
Fri 31 Jan 20 Brighton, Arch
Sat 1 Feb 20 Northampton, Roadmender
Fri 7 Feb 20 Birmingham, O2 Institute
Sat 8 Feb 20 Liverpool, Hanger 34
Tickets for this event are available from Friday 30th August 2019 on the official Soundcrash website
The team here at Different Drumz will be doing a free ticket giveaway for this event in the future too so make sure to keep it DDz and watch out for more info on this coming soon!
Useful Links
Buy Tickets | Soundcrash Website | LTJ Bukem Facebook | Roni Size Facebook