Respect Presents: Soul Deep Vs Smooth N Groove
Map Unavailable
Date/Time
Date(s) - 11/10/2018 - 12/10/2018
9:00 PM - 2:00 AM
Categories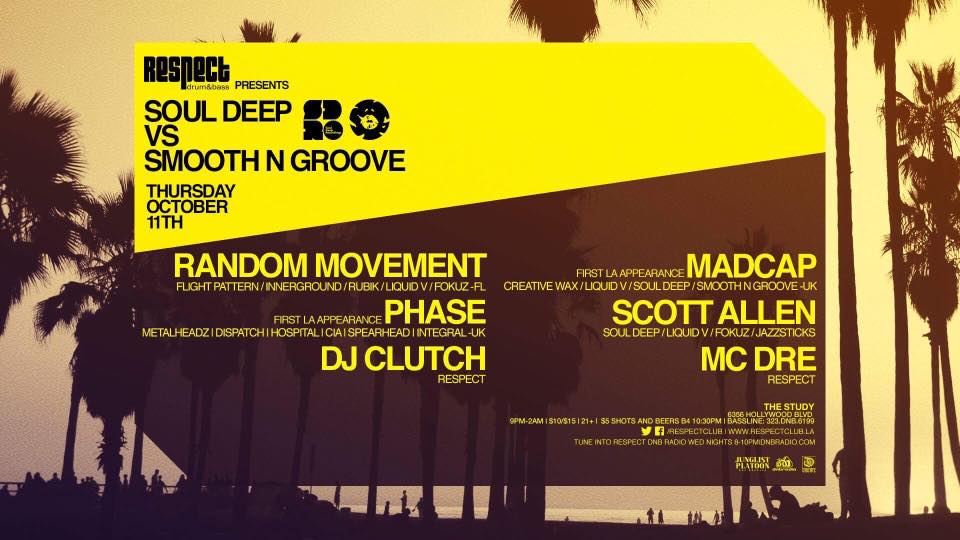 Respect Drum and Bass presents: Soul Deep Recordings vs Smooth N Groove Records at The Study Hollywood, L.A, California, on the 11th October.
Once again the guys at Soul Deep & Smooth N Groove have put together another top shelf international lineup and this time the event will be taking place across the pond in California, flying in DJ Madcap from the UK and Phase from Belgium, alongside the hugely talented Random Movement and Soul Deep Recordings head honcho Scott Allen. Kicking things off on the night will be Respect's resident DJ Clutch. The event will be hosted by the vocal talents of  MC Dre and MC Tell.
Here is some background info for those of you in the UK and Europe that are not familiar with RESPECT Thursdays over in L.A. Established in 1999, RESPECT Thursdays is L.A's longest running Drum & Bass event. Owner and event promotor Rob Machete and his team have established the Respect brand to be the 'go to' D&B event on the west coast. Over the years Rob and his team have put together legendary lineups that include the most talented producer/DJ's across the D&B spectrum, including the late Marcus Intalex, Roni Size, Alix Perez, Goldie, S.P.Y, DOC SCOTT, LTJ Bukem, Loxy, DJ Marky, DJ Blade and the mighty Calibre to name a few.
As label's both mooth N Groove & Soul Deep feel truly honoured to be part of RESPECT Thursdays and one of the many names listed amongst these legends of the scene. We look forward to seeing you there!!
The Line Up
Random Movement (Innerground, Rubik Records, Liquid V, Intrigue)
Madcap (Creative Wax, Soul Deep, Smooth N Groove, Fokuz)
Scott Allen (Soul Deep, Fokuz, Jazzsticks, Good Looking)
Phase (Metalheadz, Dispatch, Hospital, Warm Communications)
DJ Clutch (Respect Drum and Bass)
The MC's
MC Dre
MC Tell
---
R E S P E C T
Drum & Bass Thursdays
Strictly 21+ w.id
Doors 10pm – 2am
$10 advance / $15 dos
Located @ The Study
6356 Hollywood Blvd.
Los Angeles, CA. 90028
Useful Links
Buy Tickets For This Event | Official Facebook Event |  The Study Hollywood | Respect Drum and Bass | Smooth N Groove Facebook | Soul Deep Facebook | Soul Deep Recordings Website