New Different Drumz DnB Merchandise & Customiser

---
Our New Designs & Products
Here at Different Drumz we have recently added a wide variety of brand new & original designs and products to our merchandise store, ranging from the essential face masks & t-shirts to hats, caps, hoodies and jackets to keep you wrapped up warm as we head into the winter months!
---
Create Your Own Products with our new Customiser
Create your own prefect Different Drumz clothing and accessories with our customizer where you can use our logo's and designs and choose from a massive range of products for men, women & even your pets including face masks, hats, caps, T-Shirts, Hoodies, Mugs, Pet bandanas & more…
---
Special Offers & Discounts
We often have various special offers in our dnb merchandise store from discounts with up to 30% off all orders to free worldwide delivery and more!
To take advantage of our special offers simply check out the banner at the top of our drum and bass merchandise page and hit the 'redeem' buttom. Also make sure to keep an eye out around the site for our news updates on special offers and discounts.
Our special offers and discounts are limited time promotions so you will have to make sure you get in there quick if you don't want to miss out!
---
Featured Product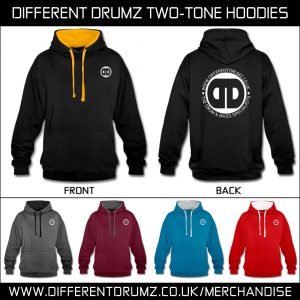 We are proud to introduce our new range of Different Drumz Two-Tone Headphone Hoodie's that we have recently added to our dnb Merchandise store! These beauties come in a range of sizes and colours and are available to ship worldwide too!
Unisex fit: formfitting for men, slightly wider for women (when in doubt, order a size bigger or smaller)
Contrast colour hoodie inside with cord
Hoodie with cord string and hidden loops for in-ear headphones as well as a patch kangaroo pocket with concealed recess for a headphone cable.
nice and smooth fabrics: 280g/m²
Material: 80% cotton, 20% polyester
---