Different Drumz 12th Birthday Double Weekender ft. Over 40 Artists! (Stream & Download)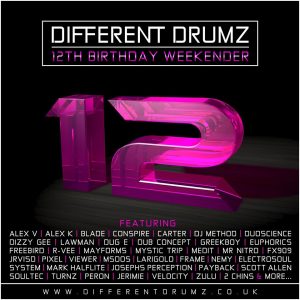 The team here at Different Drumz recently put on a very special event to celebrate 12 years of Different Drumz live on air providing the best in quality drum & bass with radio, events, podcasts & releases!
This epic live radio event featured exclusive mixes from over 50 top artists in the scene including Blade, Scott Allen, Payback, Conspire, FX909, Duoscience and more!
We would like to say an HUGE 'Thank You' to everyone who got involved from all the amazing artists that  provided us with some truly stunning mixes to everyone that tuned in, both the silent listeners and all the heads that passed through and joined us for jokes in the live chat room!!
We had such an amazing response from artitsts that wanted to get involved that, what was originally planned to be a weekender turned out spanning over two whole weekends of pure vibes!
The mixes from the whole event are now available to stream and download from this page with a full tracklist for almost all sets found in the soundcloud track description! Enjoy…
FEATURED ARTISTS
Alex V
|

Alex K

| 

Blade | Conspire

|

Carter

|

DJ Method

|

Duoscience

|

Dizzy Gee

|

Lawman

|

Dug E

|

Dub Concept

|

Greekboy

|

Euphorics

|

Freebird

|

R-Vee

|

Mayforms

|

Mystic Trip

|

Medit

|

Mr Nitro

|

FX909

|

JrvisD

|

Pixel

|

Viewer

|

MsDos

|

Larigold

|

Frame

|

Nemy

|

  DJ Kalm

|

Electrosoul System

|

Mark Halflite

|

Josephs Perception

|

Payback

|

Scott Allen

|

SoulTec

|

Turnz

|

Peron

|

Jerimie

|

Velocity

|

Zulu

|

2 Chins

&

more…
---
DIFFERENT DRUMZ 12th BIRTHDAY DOUBLE WEEKENDER CATCH UP
MIX AUDIO STREAMS