Dan Guidance – Different Drumz Podcast Episode 14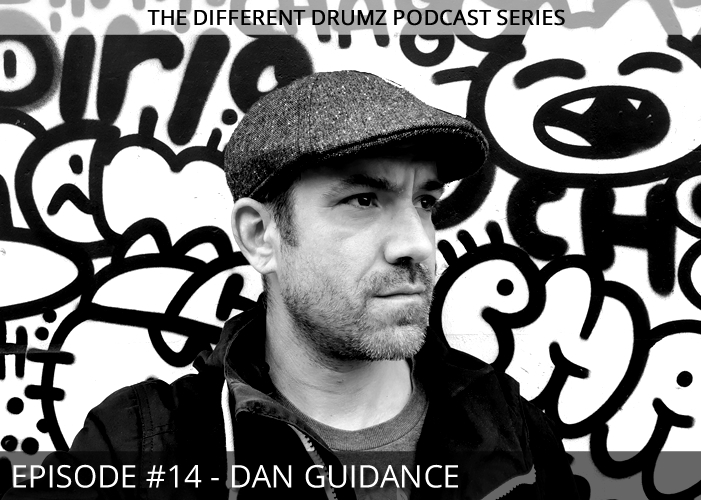 Episode 14 of The Different Drumz Podcast Series featuring exclusive mix and interview from UK based Drum & Bass artist Dan Guidance (Atmomatix / Offworld / Liquid Brilliants / Soul Deep / Smooth N Groove / Liquid Drops)!
The Tracklist
1) Bcee ft. Philippa Hanna – Back To The Streets
2) Dan Guidance, Matt View & Marvel Cinema – Innuendo
3) Siege MC ft. MC Fava – Champagne & Battle Scars
4) Dan Guidance, Matt View & Marvel Cinema – Jade Stone
5) Dan Guidance & T:Base – These Days
6) Siege MC ft. Visionobi & Curricula – Heathens
7) Dan Guidance, Matt View & Marvel Cinema – Stardust Memories
8) Dan Guidance – Something New
9) Paul SG – Dizzy
10) Siege MC ft. Hiraeth – Overdue
11) Dan Guidance – Tracers
12) Utah Jazz ft. DRS – Handle This (Pola & Bryson Remix)
13) Dan Guidance & Twintone – Sugar Coat
14) Marcus Tee & Skinley – Breaker
15) Dan Guidance – My Biggest Fear
16) Insideman – Show Me
17) ArpXP & Visionobi – Somewhere Else
18) Nichenka Zoryana – Molfar
19) Insideman – Sirius
20) Dan Guidance – You Give Me Love
21) Insideman – Dry Your Eyes
22) Dan Guidance – Along For The Ride
23) Dan Guidance – Taken
24) Askel & Elere – Until She Turns Her Back
25) Telomic ft. Notelle – Alone
The Interview
Hi Dan Guidance, great to have you involved with the Different Drumz podcast series, thanks for taking the time! Please could you get the ball rolling by telling us a little more info about yourself and your musical background for those that may not already know about Dan Guidance?
Hi, and thanks for having me on. My name is Dan Guy. I'm 40 and am a DnB producer! I grew up in rural Mid Wales, where I discovered dance music at free parties in the hills, and at raves in people's barns! This inspired me and most of my friends to start DJing. I started mixing Goa and Acid Trance / Techno. This was probably about 94/95ish. I DJed a variety of electronic genres for around 7 or 8 years.
I started getting interested in making tunes around the same time as I started to DJ. Firstly, playing around on Rebirth, making squelchy acid tunes, then I started to use SF Acid, which I used for quite a while, mostly making Techno for fun. It wasn't till around 2010, and I had a cracked copy of Ableton, drawing influence from the Moving Shadow and Renegade Records I played a lot of in the mid to late 90s, I attempted to make some Liquid DnB, and found it was right up my street! I liked that you could incorporate lot's of other different musical styles into DnB. I started to upload tracks to Soundcloud, met a load of other people in the scene online, sent off tracks, got a few a plays on online radio shows (big ups LM1, Overfiend and Ritchie who played my early stuff on Bassdrive, then singed my first EP 'Introspection' to Point Audio). By then I was hooked on making DnB. I do make other genres of music, but always seem to come back to DnB for my fix!
So, you are from Bristol in the UK. Such lively place and such a host of top drum and bass producers around there too including our good friend Lurch among others, have you always been based around there, how do you find the dnb scene there and do you often get bookings to play at local events in your home town?
Yes, Bristol's lively alright! We actually moved from Bristol nearly 2 years ago now, to the Forest of Dean. There is so much more space here, the air is a lot cleaner and we're still only 20 miles away from Bristol! I lived in Bristol for around 15 years and bloody loved it, but a change is also good. Bristol DnB scene has always seemed to be thriving, especially during University term time. There's loads of DnB club nights on every weekend, and I hear that loads of DnB producers live there too. Much that I love to make DnB, I didn't go out to many DnB club nights when I lived there. We mostly did free / squat parties, benefit nights which had a more eclectic vibe (Punk, Jungle, Dub, Tek music) and the Black Swan (my favourite club in Bristol )for a lot for Jungle, Dub, Techno, Breakcore nights, a lot of the time put on by friends.
I haven't always lived in Bristol though. I grew in Mid-Wales on the Powys / Shropshire border (Fun Fact: Pixel and Pennygiles are also from around those parts!) I moved to Bristol around 15 years ago.
I don't play out anymore. I stopped DJing out years ago for various reasons. I much prefer to dance and chat shit when I'm out these days. One day I will get round to sorting out a Live set, but with so many ideas for tunes always floating about my head, I always get distracted with that.
As we know you are a fan of the more soulful side of dnb that we love here at Different Drumz, when it comes to your productions, do you play any instruments yourself & where do you find your inspiration for your tracks?
I don't play any instruments really ( I played violin as a kid, badly!). I record chords, basslines and melodies on my MIDI keyboard, but I wouldn't say I could play the keyboard or piano. I often need to adjust what I have played, after.
Inspiration for my tracks comes from various places; conscious and unconscious.
Music-wise, I listen to a lot of different genres, and this undoubtedly gives me ideas for my tracks. For example, when I come back from WOMAD festival, I'm overflowing with inspiration from music from all over the world, and I will be seeing if sitar, Latin percussion or African drumming for example, will sound good in the mix.
I've had been listening to a lot of Tycho, Bibio, Teen Daze, Helios, that kind of thing recently. I really loved that retro, slightly warped, wonky and floaty vibe. It's got a really nostalgic quality that I feel is uplifting and melancholic at the same time. I remember thinking that I would like to try to capture that sound / feeling, and I think it has rubbed off into my music on occasions.
Choosing tunes for this mix, I stared to listen to a lot of DnB again (I don't tend to listen to that much when I'm composing), and discovered some real gems, that have given me some great inspiration, and also a kick up the arse to really work on my production skills, as some of these tunes out now have such mind boggling production.
Inspiration doesn't just come from music I listen to though. My environment, films I watch, weather, memories, people I meet, what I've done that day, all have a part to play.
You have an impressive track record with various releases on some great labels such as Atmomatix, Offworld, Liquid Tones, Soul Deep, Smooth N Groove, Liquid Drops, Soul Flex and more recently Liquid Brilliants… do you have a favourite release of yours to date and why?
Seeing as I pretty much can't stand my tunes after a few weeks of making them (a bit harsh maybe!), it's strange that one of my favourite tracks is one of my very early ones. It's 'From The Art', which came out in 2012 (blimey, that's flown by!) on the now defunct Liquid Tones. Obviously, I think, yes, I could have mixed it better, made the drums sound better etc (Hindsight is a wonderful thing!) but to me, it still delivers a real emotive journey. I remember it was a really quick track to make. Everything just fell into place. The main lead sound was a trumpet, I think, which I reversed, and it just fitted. I've tried on more than 1 occasion to try and replicate the sound but it never really worked well enough again.
Another favourite of mine, is 'I Dream of You' which came out in 2017 on Technique Records. Again, as with all tunes I make, after, I think I could have done certain things better, but putting that to one side, I still get a nice warm glow from this tune. I loved the vocal and based the track around it. For this track I used NI Massive for the arp, and can't for the life of me find the patch for it now, or remember how it was made!
As we briefly mentioned your most recent release was 'Thinking Space' that came out on Liquid Brilliants just a few days ago, could you tell us a little more about the concept behind this release and how you put it all together?
Thinking Space EP is comprised of 4 tracks, which were chosen from a whole bunch of vocal DnB tracks I had made at the same time. I tend to work in blocks, style-wise, making many tunes in a similar style, then moving onto something else. I wanted to make some vocal tracks that had a kind of catchy hook. I often found I remembered tracks more if they had a vocal in, so I decided to try making some. I had also been listening to a lot of the poppier side of Liquid DNB of Soulvent, Spearhead and Viper, and thought I'd make my version of vocal DnB. Being quite inspired by retro sounding Synthwave and Electro at the time, I tried to make old and quirky sounding leads, and play them off against the vocals. That was the vibe I was going with all the tracks on EP. I wanted the bass to kind of glide you along the track simply, opposed to be too bouncy or hectic, so went for a long and simple b-line, with these tracks.
Top stuff, What labels are you working with at the moment or plan to in the near future? Could you let us know a sneaky little bit of info about some of your other releases you have planned for 2019 so we know what to look out for?
I have been collaborating a lot at the moment, which I love doing. Bouncing ideas of each other really gets the creative juices flowing! I have been working a lot with Marvel Cinema and Matt View, from Cologne, who are so talented and great to work with. Am always so impressed when I get a collaboration back from those guys. So we have some tracks that are forthcoming on Fokuz and Soul Deep I believe.
I've also been collaborating a lot with Twintone, from Frankfurt. Volker is also another really talented guy. I will usually start our tracks, and Twintone will always take to another place, taking the listener on a real journey. This is someone who probably uses more layers than I do (but can actually pull it off)! We have a forthcoming EP on the fantastic Bay 6 Recs.
Another collaborative track, with Marvel Cinema and Fishy, is getting a vinyl release on Scientific Records.
I also have some collaborations on the go with Fishy, MsDos, Peron, Kontrast, Marcus Tee, Echo Motion & K2T, so can't wait to see what that brings!
I've also got some forthcoming solo releases locked. 2 EPs on Liquid Drops, an LP on Exiled Recs and an EP on Nu Venture Recs. I've got also got some tracks I've just finished which I'll be sending out soon too.
Wow, thanks for that. That is an impressive amount of tracks, labels and artists your working with at the moment, looking forward to hearing those! We are always interested to find out a little more about our favourite producers and their methods with regards to production, what software/hardware do you use to produce your music & do you have any favourite VST's or programs that you would recommend??
Mine is a pretty basic set up really – A laptop running Ableton Live, an EMU MIDI keyboard and a pair of Yamaha HS5s. VST instrument wise, I use Kontakt (mainly for piano / keys, double bass, vocals in Exhale, drums with Battery and more organic instruments), Massive (mainly for bass), Serum (for leads and bass), Omnisphere2 (a lot for pads and fx), Spire (for leads) and Hive2 (for leads, pads, arps usually).
Thanks for the detailed breakdown there. We love to promote and support new artists here at Different Drumz, Please could you tell us 3 producers that you rate at the moment and think people should keep an eye out for in the future that they may not have heard of before?
Don't know how 'new' these artists are but they are pretty new to me…
Davyd from Liquid Brilliants sent me a great EP from Ukranian producer Nichenka Zoryana, called 'To Nikol'.  It was really original and really hit the right spots with me.  Some great African singing samples among others. I have played a track in this mix, and would highly recommend you check it out if you haven't already.
Insideman sent me an lovely EP, 'Almost', he released on Soul Deep. I hadn't heard his tracks before, but after hearing 'Almost' I was an instant fan. His tunes are very well produced, smooth yet banging and great to mix with. I have actually played 3 tuness from the 4 track EP in this mix for you guys.
Fearbace, from South Africa, is another producer I've recently clocked, and loving his work. Really emotive and atmospheric DnB. Just how I like it! Infact all the producers on Bay 6 are killing it right now!
Nice, we will be checking them out! Please could you tell us how you have put the DDz podcast mix together and what our listeners can expect to hear in the mix?
So, the mix is a collection of tracks I have been really feeling at the moment, some forthcoming tracks of mine and forthcoming collaborations. It's mainly Liquid, carried through with lots of lush vocals and some MCing by some of my favourites such as DRS, Siege MC and Visionobi.
Before we wrap it up and sink into your podcast mix, do you have any shouts you would like to give?
Shouts to all the producers I've been working with, label people that have released my tracks, DJs that play my tunes, promo people that write about and upload my stuff and most importantly people who listen and dance to my music. Also my partner and kids for putting up with the same loop for hours and hours!
Ha ha. Finally, we always love to know what's in our favourite artists 'record box'.. could you tell us your top ten favourite tracks at the moment in any order?
I've just chosen DnB as a top ten. Spanning all genres would just be too hard! Most of the tunes on this list are not really that new, some being really old (for DnB), but always in my top ten anyway (this mix has a lot of my favourite current-ish DnB tracks)…
Big Bud – Darker Than Blue
EZ Rollers – Hang On (or basically the whole Weekend World LP!)
Pola & Bryson – Temporary Love (ft. BLAKE) (S.P.Y Remix)
Calibre & DRS – Sunrise
Paul SG + Soulstructure – Walking Notes
LSB & Kinross – Roots
Overdue – Siege MC & Hiraeth
Back To The Street – Bcee & Philippa Hanna
Blurry Vision – Iklektix & Emerald Iona
Dave Wallace – Flight
Useful Links