Atmomatix Records | HumaNature, Radicall, Ash:Ram – Eleventh Hour EP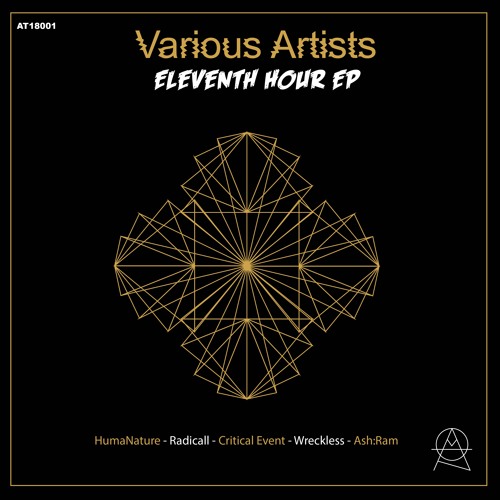 The follow up to their first physical release is a stellar four track EP introducing a new project and welcoming old friends back to the label.
The first two tracks come by the way of label stalwart HumaNature. 'Eleventh Hour' opens slowly, dusty atmospherics making way for a haunting arp, vanishing only to come back with renewed vigour before a smooth drop and relentless bassline.
'Upside Down' closes out the release in silky smooth fashion. Jazz influences run riot, flickering keys revolve around sharp drum work and sliding guitar notes interspersed with pulsating horn movement creating a richl introspective feel.
Next up we see Radicall flip his partner in crimes 'Cold Summer Night' from 2017's Critical Event & Friends EP with Wreckless. Utilising the haunting vocal sample to echo in deep rolling reese movement. Percussive switches & a skillful use of textures keep the track moving; winter warmer for sure.
Kicking off Ash:Ram, a fruitful collaborative project from label head Criticial Event alongside Radicall. 'No Regrets' is carried along by an otherworldly arp from the onset, flickering breaks come into view before moving swiftly into a thick subline and buttery vocals.
This release is out now in all major digital stores!
Audio Previews
Useful Links
Buy This Release | Atmomatix Website | Atmomatix Soundcloud | Atmomatix Facebook