Warm Ears Music 1yr Anniversary FT. Artificial Intelligence, Phil Tangent, Edward Oberon, Paul T & More
Date/Time
Date(s) - 01/07/2017 - 02/07/2017
10:00 PM - 6:00 AM
Location
Bar 512, Kingsland road, Dalston London
Categories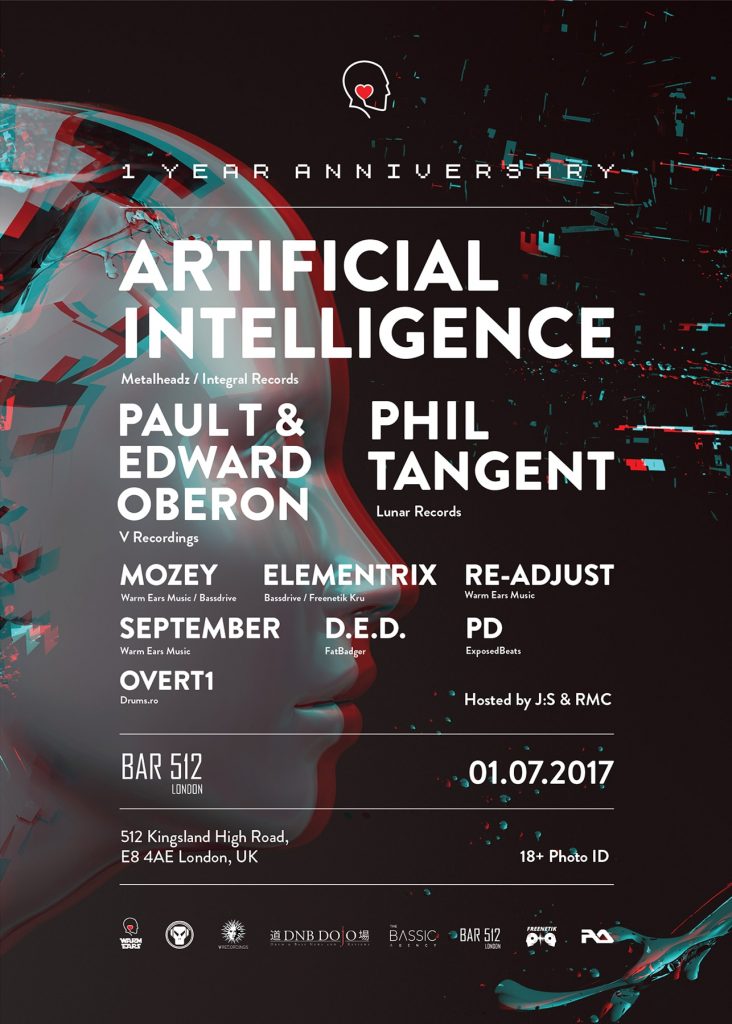 One of London's youngest drum and bass labels, is excited to announce the complete line-up for the 1 year anniversary on 1st of July, 2017. Phil Tangent (Soul:R), Paul T and Edward Oberon (Liquid V) and Artificial Intelligence (Metalheadz) will take the spotlight for the event. Alongside them, our Warm Ears family and friends, including Elementrix, Re-Adjust, September, D.E.D, PD Overt1 and Mozey, will take the lead for the rest of the evening. The event will take place at Bar512, in Dalston Junction, London.
"We are both happy and excited about the turnout of this first year of Warm Ears and it only fuelled our motivation. We got great feedback from the producers and DJs who worked with us or joined us at one of our events, and as well from drum and bass heads around the world who appreciate what we're doing. We would like to thank everyone for this ongoing support." said Gabriel Cernea, Founder of Warm Ears Music.
The Warm Ears family has slowly but steadily grown this past year. With releases from Radicall, September, Re-Adjust or Crimelabs, the label has been quick in making a name for itself in the scene. Since an army is greater than a warrior, earlier in 2017, Darren Dedman aka D.E.D and Petter Matthews known as PD, teamed up with Gabriel.
"We found ourselves and our ideas in what Warm Ears Music is and does. We really wanted to support the drum and bass scene more, and we found this to be the perfect way to do it." adedd Darren Dedman and Petter Matthews, Co-owners Warm Ears Music.
With new releases in the oven and a series of livestreams featuring iconic drum and bass names, Warm Ears is just at the beginning of its journey.
Useful Links
Buy Tickets  |  Facebook Event | Warm Ears Facebook Page |  Warm Ears Website